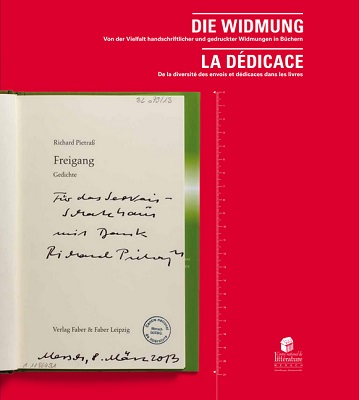 On Friday the Luxembourg-based graphic design agency, Rose de Claire, received the prestigious German Design Award in the category "Excellent Communication Design - Editorial" in Frankfurt.
The announcement for the nomination had previously been made last November; the design agency won the award for their exhibition catalogue "La Dédicace - De la Diversité des envois et dédicaces dans les livres". The catalogue, edited by Claude D. Conter, had previously won a Luxembourg Design Award in the category of "Book Design" earlier in 2015.
The jury's opinion was that "Dedication is an extraordinary catalogue, which refers to the variety of handwritten and printed dedications in books. In the collections of the Luxembourg literature centre there are more than 4,000 volumes of handwritten or printed dedication. Through the dedication each book is unique. To demonstrate the dedication book in its original size, a large format (240 x 300 mm) was chosen for the catalogue. 38 different dedications / presentation books were presented in a rigorous visual concept. A unique collection that fascinates and touches."
The catalogue can be viewed in the Applied Art Museum in Frankfurt am Main in the guest exhibition of the German Design Award until Sunday 28 February.
The German Design Award is one of the most respected design competitions in world and attracts high-profile submissions, each of which are leading in the international design scene in their own way. The German Design Award was started in 2012 and is the international prize of the German Design Council, which aim is to discover unique design trends to present and reward.
The exhibition catalogue is available in bookstores and over 4,000 dedicated books can be found in the library.
Photo by CNL