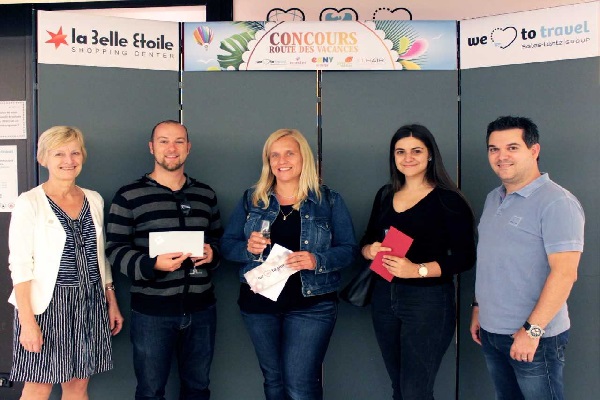 La Belle Etoile has announced the winners of its "La Route des Vacances" competition organised in July 2017.
In July, La Belle Etoile organised a special holiday initiative, offered in collaboration with five shops on the shopping centre's first floor. The initiative included many activities in a seaside setting, such as free sangria, music, face painting, tastings, and promotions. The main event, however, was the contest to win a 3-day stay in Barcelona for two people, as well as vouchers.
The winners of this competition were Sylvie Hausemer from Hagen, who won the stay in Barcelona offered by the travel agency We love to travel (Sales-Lentz Group), along with Sabrina Dias Costa from Schifflange, Olivier Kieffer from Luxembourg City, Roby Cillien from Mondorf-les-Bains and Guy Etringer from Garnich, all of whom receiver €50 vouchers from Coiffure & Beauté by T.Hair, Erny Ernster, Ernster Bookstore and Josy Welter.
Photo by Cactus. L-R: Bernadette Muller (Belle Etoile) and Marc Scarpellini (We love to travel) with the contest winners