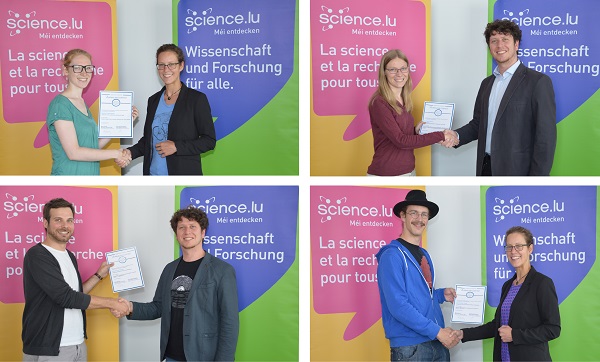 Four researchers in Luxembourg have received prizes for their engaging articles about their work or a scientific curiosity; from biomedicine and environmental sciences to psychology and theoretical physics, the articles illustrate the diversity of research and their importance for society.
The contest: four winners and two first prizes
The jury of the first science.lu Journalism Contest decided to reward four researchers, with two of them as recipients of the 1st prize.
1st prize:
- Martha Elwenspoek from the Luxembourg Institute of Health (LIH) tells us more about how a stressful childhood can cause disease (EN).
- Barbara Glaser from the Luxembourg Institute of Science and Technology (LIST) presents a methodology how floods could be monitored with thermic cameras (DE).
2nd prize:
- Alessandro Decarli from the University of Luxembourg explains the impact of the attachment bond between parents and their children in socio-emotional development in infancy and beyond (EN).
3rd prize:
- Christophe Theiβ, Luxembourg national at the Karlsruher Institute für Technologie makes us discover the detection of elementary particles called muons with the help of a coffee thermos (LU).
The two first prize winners receive a science journalism course abroad valued up to €2,000 and also €500 in prize money. The runner-up wins €250 in prize money and a place on a science.lu online journalism course. The third place brings €125 in prize money and also an invitation to participate in a science.lu online journalism course.
science.lu: an effective science communication platform
All winning articles have been published on www.science.lu , Luxembourg's website that presents research news and science in an exciting and comprehensible language.
With each post having an average reach of 27,000 on science.lu and across its social media channels, this platform is an effective way for the public to stay tuned in on what happens in science and research in Luxembourg. It is also a great way for researchers to bridge the gap between their research and the general public.
Anchor science in society: the FNR supports researchers' initiatives to promote science to the public
The science.lu contest was organised by the Fonds National de la Recherche (FNR) to promote researchers' efforts to communicate science and engage with the public.
The FNR has set itself the objective to anchor science in society and offers a variety of instruments to stimulate and reward the promotion of science and the exchange between science and society. This includes the online platform science.lu, but also events like the Science Festival (this year again from 9 to 12 November. More info www.science-festival.lu)
Meet the researchers: official science.lu winner's certificate
The FNR considers public engagement as an integral part of research and a joint responsibility of research institutions and funders. Dr Marc Schiltz, secretary general of the FNR and Jean-Paul Bertemes, science.lu Chief Editor congratulated the laureates and their institutions. They also cordially invited them to the FNR office to present them with an official science.lu winner's certificate.
Photo by Martha Elwenspoek, Michèle Weber (u.l.), Barbara Glaser, Jean-Paul Bertemes (u.r.), Alessandro Decarli, Jean-Paul Bertemes (l.l.), Christophe Theiß, Michele Weber (l.r.) © FNR