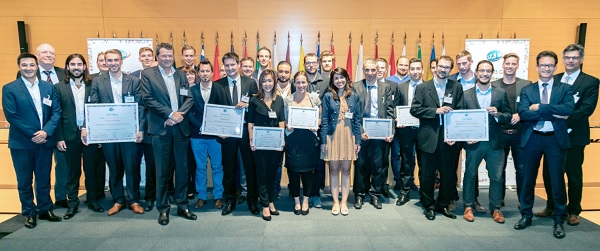 Credit: © Pierre Guersing - Chambre de Commerce
The closing ceremony of the 1,2,3 Go competition took place at the Chamber of Commerce in Luxembourg-Kircherg on Thursday evening; 10 selected projects were showcased to a packed audience through short videos and were awarded cash prizes with a value of up to €10,000.
The 1,2,3 Go competition has honoured entrepreneurial projects for the past sixteen years. It is jointly coordinated by the non-profit organisation nyuko in Luxembourg and its regional partners in the Greater Region. This year was another successful year for the programme, and the quality of the applicants was deemed exceptional. Martin Guérin, CEO of nyuko, was thrilled and stated "We worked with our partners in the Greater Region to offer better visibility and networking options to the project holders. As a result, we are glad to note that we received a larger variety of applicants this year – this further enriches this flagship programme."
Carlo Thelen, Director of the Chamber of Commerce in Luxembourg, gave the introductory speech to this evening dedicated to entrepreneurship. Next, Michèle Detaille, administrator of ALIPA Group and Luxempart, took the floor to illustrate the lessons to be learned in the adventure that is entrepreneurship.
The 10 best projects were then showcased to the crowd through short videos and were presented their awards on stage. Notably, the sponsors chose to give the Sponsor's Favourite prize to Spentys, a Belgian startup that produces 3D-printed cast bandages. The awards ceremony reached its climax when the three best projects were announced: Qbing Industrial Solutions came in third, Bluepad second and Cloud of Safety was honoured as the best project of 2017. Nicolas Buck, president of nyuko, closed the event.
All the projects, which are led by both professional and passionate amateurs, were warmly received and applauded by the audience. "Supporting entrepreneurship in the Greater Region is important because it stimulates the job market, contributes to economic growth and upholds the local economic decision-making", Michèle Detaille confirmed.
The 10 finalist projects included:
• Bluepad has developed a mobile solution that facilitates the management of construction projects by offering tools adapted to the major stages of a site
• Cham Saar's cheese factory addresses the lack of freshly produced Arabic cheeses in Germany
• Cloud of Safety an online management platform aimed at the organization and implementation of professional safety measures in a wide range of industries
• Complero has conceived a platform through which individuals can keep their personal details up to date and decide who gets access to which data
• HERAX is a robotic exoskeleton that can be attached to a patient's hand, enabling them to perform hand therapy through a touch device at home
• Les Ateliers de Maylis offers a 'musical box' containing a selection of musical instruments for rent, allowing for a fun and educational musical experience
• Qbing Industrial Solutions' product offers a neat, cost-efficient and user-friendly solution to connect databases and other industrial software systems
• Spentys has developed a system that 3D-prints made-to-measure cast bandages that are light, water-proof and comfortable
• Talking Stone's mobile app is a portable, historical audio-guide that, thanks to its geo-location technology, makes the old stones talk
• TrackSens has developed the Internet platform PopPopGo.com that helps its users organise and transfer information gathered from written documents