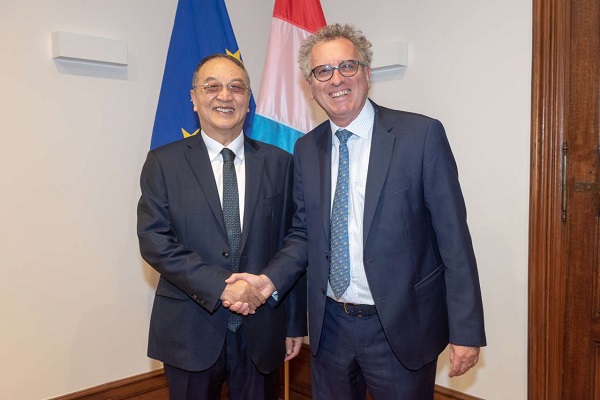 Today on Thursday 12 July, the Minister of Finance in Luxembourg, Pierre Gramegna, met the founder and president of Legend Holdings Corporation, Liu Chuanzhi.
Following the validation of the transaction by the supervisory authorities, Legend Holdings Corporation acquired the 90% stake that Precision Capital held in the capital of the International Bank in Luxembourg (BIL). The remaining 10% is held by the Luxembourg State.
Pierre Gramegna and Liu Chuanzhi discussed Legend Holdings' overall strategy and BIL's development prospects for the years to come.
In this context, the Minister of Finance emphasized that the State, as a shareholder, is particularly concerned with the stability of the bank and supports its continued development, in the interests of both clients and employees. President Liu Chuanzhi confirmed that Legend Holdings Corporation's investment was intended to be long-term and a strategic focus for the Chinese group.
Pierre Gramegna and Liu Chuanzhi also agreed to hold a follow-up meeting as part of the Minister of Finance's business trip to China from 9 to 13 September, 2018.
Pierre Gramegna comments: "The entry of Legend Holdings into the capital of BIL illustrates the privileged partnership between China and Luxembourg in the economic and financial field. I welcome the dynamic approach of the new majority shareholder of BIL, which, while guaranteeing continuity, shows promising future prospects."