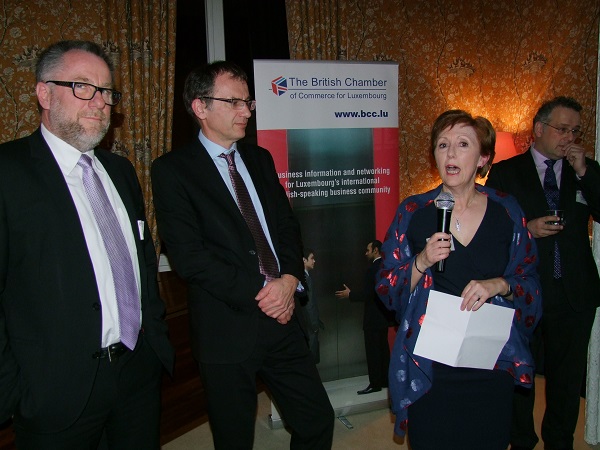 (L-R): Dan Eischen, BCC; Amb John Marshall; Jill Saville, BCC;
On Thursday evening, the British Chamber of Commerce in Luxembourg (BCC) held its annual New Year Cocktail at the residence of the British Ambassador to Luxembourg, HE John Marshall.
With around 120 members attending, this last day of January was the last occasion for wishing people a Happy New Year.
Ambassador Marshall wished everyone good health, happiness and prosperity in 2018 and thanked the British Chamber for an excellent partnership with the embassy.
He shared his views on Brexit and acknowledged that there will be a lot happening regarding Brexit in 2018. Firstly, regarding the agreement reached with in December with the EU to he turned into legal text and forming part of the withdrawl agreement scheduled to be finalised in the autumn, plus other issues including Euratom, the border with Ireland, etc.
In this regard, he mentioned the 22 February event the embassy is organising with BRILL, to explain what the December agreement means for British citizens living in Luxembourg (at the ISL at 19:00).
The second work stream involves transition; he stated that the EC has just released their basis for negotiations which he hopes will be agreed by the March council. He acknowledged that some tricky issues, e.g. 1,000+ EC agreements will continue to apply to the UK.
And the third area concerns the future partnership, covering a range of areas including economic, civil, judicial, financial services, etc. (services account for 80% of British exports).
He said that Britain will be looking for am ambitious deal based on cooperation and managing cross-border risks.
He also referenced the British Luxembourg Society which was founded in 1947 by Luxembourgers. Last year a transitional council was appointed and is currently modernising the statutes and is putting the society back on a regular footing; he hopes that it will appeal to people of many nationalities who may be interested in it, and asked people attending to be on the lookout for the re-launch during the year.
As Joanna Denton, the BCC's Chairman, was unable to attend due to a prior business commitment, the two vice-chairs, Dan Eischen and Jill Saville, did a "double act" and reflected on last year as well as looked ahead to this year.
Last year saw the BCC celebrate its 25th anniversary, kicking off with dinner in the dark, then a summer brunch with Jude Law, and finishing off the year with a theatre play "Wat, no Fish?". Dan Eischen recalled that 2017 was an opportunity to look back on 25 years of relations between the UK and Luxembourg, including both businesses and individuals. Also, the Chamber continued throughout the year with its normal agenda of luncheons and evening seminars.
Regarding this year, he said that the BCC is a members' organisation; they want to hear from members on what they want, including ideas from sub-groups. There will be some events on Brexit, as well as other topics. "We clearly believe this will be the year of Brexit in the British Chamber of Commerce". He ended off by stating that the council is looking forward to a successful year for both the BCC and its members.
Jill Saville stated that the BCC hopes to become more involved in an international network, and it will be represented at a number of international events. She also said that plans are afoot for a new digital platform.
The event continued with a networking reception.​