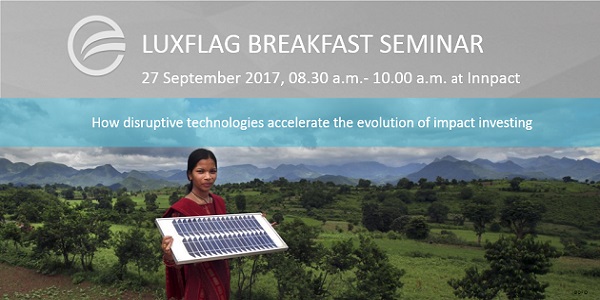 The 10th edition of LuxFLAG's breakfast seminar will take place on 27 September 2017, on the topic of 'How disruptive technologies accelerate the evolution of impact investing'.
This edition of the LuxFlag breakfast seminar, hosted by Innpact, will welcome Cyrille Antignac, Founder and Managing Director of UBERIS Capital, who will shed light on how to back the growth of innovative enterprises using disruptive technologies (digital, biotech, fintech) to create measurable impact. He will share his lessons learned out of impact investing in the most dynamic emerging market regions in the world.
The event is free of charge and will take place on 27 September from 8:30 to 10:00 at Innpact, 5 Rue Jean Bertels, 1230 Luxembourg.
As public parking facilities are limited, it is recommended to use public transport to access this event.
Registration is via email: info@luxflag.org or online at: http://www.luxflag.org/other/conference-signup.html