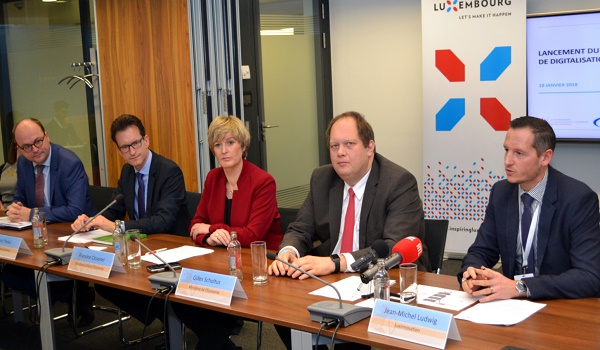 L-R: Tom Wirion, Chamber of Trade; Carlo Thelen, Chamber of Commerce; Francine Closener, Secretary of State for the Economy; Gilles Scholtus, Ministry of the Economy; Jean-Michel Ludwig, Luxinnovation; Credit: MECO
The Luxembourg Ministry of the Economy, Chamber of Trade, Chamber of Commerce and Luxinnovation today presented a digitalisation programme for SMEs.
On 18 January 2018, the Ministry of the Economy, the Chambers of Trade and Commerce and the national innovation promotion agency Luxinnovation presented a digitalisation programme to advance the digital transition of small and medium-sized enterprises and to enable them to make the best use of the possibilities offered by digital technology.
Within this programme, the Chamber of Trade with its "eHandwierk" service and the Chamber of Commerce with its "Go Digital" team each propose an initiative to make companies aware of the challenges of digitalisation and to inform, guide and advise them in their efforts to this end. The expert diagnostic phase and the subsequent implementation phase are proposed in collaboration with Luxinnovation. In these two stages, the professional chambers rely on the "Fit 4 Digital" service offer developed by Luxinnovation to help SMEs take advantage of digital technologies.
During their digitisation process, companies can benefit from various financial assistance from the Ministry of the Economy, including the assumption of diagnostic costs up to €5,000. An information sheet on assistance for SMEs can be consulted on Guichet.lu.
The new "Go Digital" programme of the Chamber of Commerce starts today and on 20 March 2018, the Digital Day will offer 4 workshops in German and French, testimonials from entrepreneurs and expert interventions. Registrations are now open on www.godigital.lu.
Meanwhile, the "eHandwierk" service of the Chamber of Trade, which has been operational since 2 January 2018, will organise and facilitate exchange platforms in the form of workshops on the various issues surrounding digitisation. The first workshop will take place on 6 February 2018 and will focus on the use of smartphones and tablets in the daily life of the company.