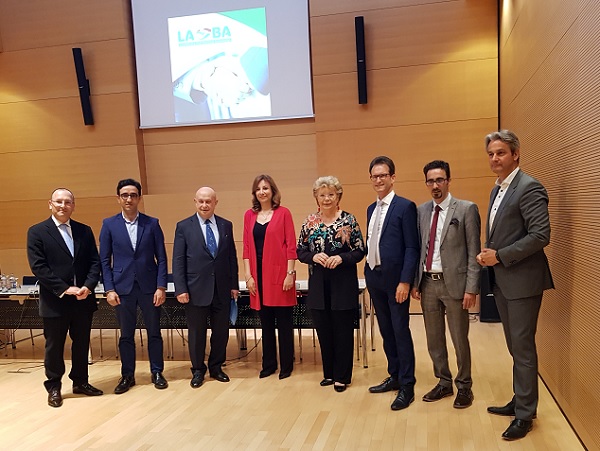 LABA launch;
On Thursday 19 April 2018, the Luxembourg Arab Business Association (LABA) was formed at the Chambre de Commerce in Luxembourg-Kirchberg, with Carlo Thelen, Director of the Chambre de Commerce, and Viviane Reding, former EC Commissioner, addressing the meeting.
LABA is an association of businessmen and women concerned with economic and business issues, apolitical and without religious concerns, which will operate the best practices of European governance and social progress including gender parity.
LABA's members are economists, bankers, accountants, auditors, lawyers, entrepreneurs, industrialists, scientists, professors and others, scattered throughout the economy of Luxembourg, employed or established in the Grand Duchy of Luxembourg, from various Arab countries, and other countries interested in dealing with the Arab world or having some economic links with them.
LABA's founders come from Syria, Lebanon, Egypt, Morocco, Tunisia, Algeria, Luxembourg, France and Belgium; its first president is Fouad Edmond Rathle.
Its goal will be to provide an economic platform that will bring together professionals of Luxembourg so that men and women in profession in Luxembourg, of Arab origin, or others engaged in economic activities with the countries of the Arab world. Their meetings will be a platform where participants will be able to exchange in friendship and fraternity and share information, build strong relationships and help each other in the exercise of their activities.
LABA will strive to promote the development of business, finance and science from the countries concerned and also the Grand Duchy, and will strive to strengthen existing links. It wants to help its members promote their services and products, assist potential investors in the countries concerned and Luxembourg, and finally foster bilateral relations and participate in relevant initiatives.
At the launch, the association had eighteen founding members and twelve other membership applications.​