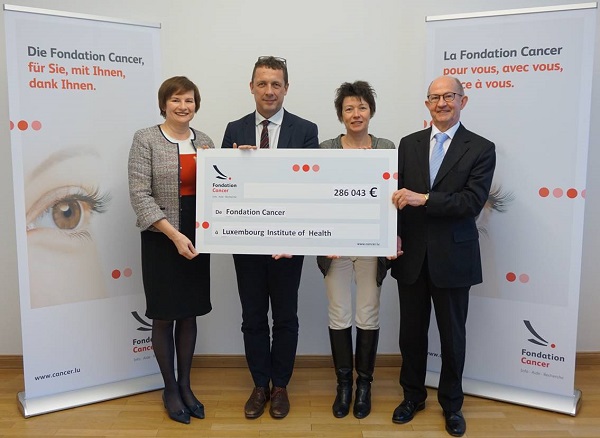 (L-R): Lucienne Thommes, Director of the Cancer Foundation; Dr. Ulf Nehrbass, Director of the LIH; Prof. Dr. Simone Niclou; Dr. Carlo Bock, President of the Cancer Foundation;
As part of the research support, Dr. Carlo Bock, President of the Cancer Foundation, and Lucienne Thommes, Director, presented a cheque worth €286,043 to the researchers Prof. Dr. Simone Niclou and Dr. Anne Schuster in the presence of Dr. Ulf Nehrbass, Director of the Luxembourg Institute of Health (LIH): the goal of the Targeting Glioma Cell Invasion project is to better understand the molecular mechanisms of tumor invasion in the brain.
Although rare compared to other cancers, brain tumors are extremely aggressive and there are few effective treatments. This is particularly true for glioblastoma, which, with about five cases per 100,000 people, is the most common and aggressive brain tumor. This malignant tumor can occur at any age, but especially in people between 45 and 70 years.
It can affect different brain regions and causes large lesions. Glioblastoma has the insidious ability to penetrate deeply into brain tissue or even to spread from one hemisphere to another. This invasive nature prevents complete surgical resection of the tumor, as there are usually tumor cells invisible to the surgeon. Nevertheless, tumor surgery is the first line of treatment followed by a combination of radiotherapy and chemotherapy. However, to date, standard treatment rarely prevents recurrence of the tumor. It is the tumor cells capable of penetrating the surrounding tissues that are responsible for it. Current medical treatments mainly target dividing tumor cells. To be truly effective, these treatments should be complemented by therapies that further target the invasive process. In order to develop such strategies and limit the recurrence of tumors, it is important to better understand the molecular mechanisms of tumor invasion in the brain.
This research project of the team of Prof. Dr. Simone Niclou of the LIH aims to find and understand exactly these mechanisms responsible for the invasion of tumor cells at the molecular level. Since 2014, the Cancer Foundation has been supporting this very promising research project by Anne Schuster. A major discovery to date has been the identification of a gene that plays an important role in the invasive behavior of glioblastoma cells. This gene could be responsible for the reappearance of glioblastoma.
The identification of this gene essential for the malignant invasion of glioblastoma requires to discover the molecular mechanisms involved. To do this, scientists have compared the expression of all normal tumor cell genes with that of tumor cells that have been deactivated for the identified gene and therefore have a lower invasive behavior. In other experiments, we are currently examining whether altered gene expression can reveal intracellular signaling pathways that play a role in invasive behavior. From there, molecular mechanisms can be deduced.
The next step is to compare the mechanisms with databases containing a wide range of drugs already on the market and known to affect signaling pathways. Thus drugs potentially effective against invasiveness could be identified. These drugs would then be administered in a clinical trial to see if they can be approved for glioblastoma patients. Thus, new applications of existing drugs could be found, significantly improving the quality of life of patients with glioblastoma in combination with drugs used, radio and chemotherapy.