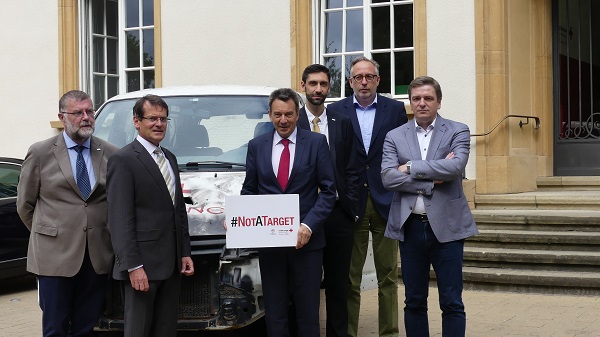 Peter Maurer, President of the International Committee of the Red Cross (ICRC) met the leaders of the Luxembourg Red Cross on 10 July 2018 at a meeting
in the Grand Duchy.
This was an opportunity to discuss the on going development and cooperation between the Luxembourgish organisation and the ICRC, as well as to discuss the current awareness campaigns and fundraising taking place in Luxembourg, specifically the #notatarget campaign.
This is the third year in a row that the Luxembourg Red Cross is campaigning in support of the ICRC. Based in Geneva, it brings daily emergency aid directly to areas of conflict in over 80 countries, providing protection and assistance to victims. Unfortunately, today, public health services and humanitarian organizations have become targets.
Peter Maurer, President of the ICRC, said during his visit to Luxembourg: "Over the past two years, we have documented more than 1,200 acts of violence against medical structures or health personnel. Violence spares no thing or person: the injured and sick, doctors, nurses, ambulance drivers, other health workers, hospitals, health centres. In Syria, for example, more than half of the hospitals have been damaged or destroyed. I thank the Red Cross Luxembourg and its donors for their continued support."
Michel Simonis, General Director of the Luxembourg Red Cross, underlined how much the campaign is more than symbolic: "These attacks are intolerable and constitute a
violation of the principles of international humanitarian law. Through the international activity of the Luxembourg Red Cross and with this campaign we are committed to the ICRC."
Exchanges between the ICRC President and the leaders of the Luxembourg Red Cross also focused on the collaboration on humanitarian projects of the Luxembourg Red Cross underway in Niger, Cameroon and Ukraine. They were supplemented by more general exchanges on the strategic challenges facing the International Red Cross and Red Crescent Movement and how they can develop them with medium to long-term goals. The meeting took place in the context of a working visit by Peter Maurer to the Luxembourg Government.