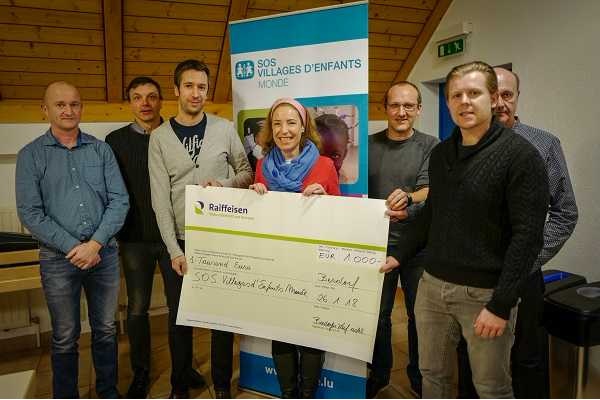 SOS Villages d'Enfants Monde has received a cheque for €1,000, collected as part of the 10th edition of Berdorfer Laf.
At the annual General Assembly of the Berdorfer Laf association, which has just taken place at the "A Weewesch" cultural and sports centre in Berdorf, president Bob Nilles presented a cheque for €1,000 to SOS Villages d'Enfants Monde.
For the second time, the Luxembourg NGO SOS Villages d'Enfants Monde- committed to children around the world- received a donation as part of the well-known sports event, the 10th edition of which was held last May. Like every year, the race brought together runners and non-runners alike in eastern Luxembourg.
The donation will go to development projects in West Africa (Guinea, Mali, Niger, Senegal) which aim to spread awareness among families and communities of the rights, needs and interests of their children and to allow them to become independent for take care of these. Twelve programmes in four countries for about 10,000 children and their families are in progress until 2021 and have thus far received financial support from Luxembourg.
The 11th edition of the Berdorfer Laf will be held on 26 May 2018 from 17:00. Registrations are already open.