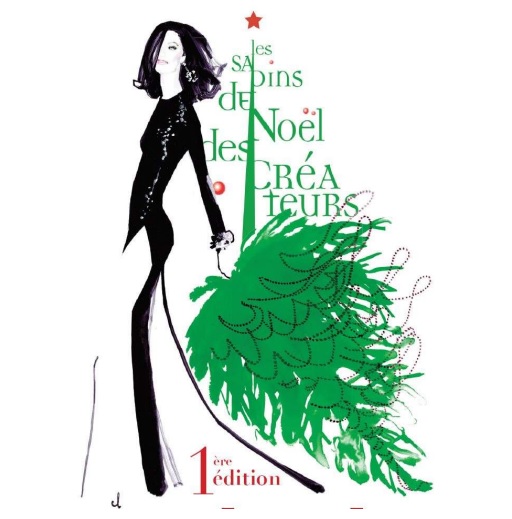 Credit: Design by Marc-Antoine Coulon © Galuchat
The Designer Christmas Trees event will be coming to Luxembourg for the very first time this festive season from 6 to 15 December 2017.
Following in the footsteps of Paris, which is currently on its 22nd edition of the event, Luxembourg will host the charitable Designer Christmas Trees, in support of Fondation Cancer. The event, organised under the patronage of Her Royal Highness the Grand Duchess of Luxembourg and President of Fondation Cancer, will offer the public the opportunity to discover and buy the Christmas tree designs of some of the biggest names in fashion, design and architecture.
For the occasion, Stéphane Bern is associated with Marie-Christiane Marek (creator of the concept and the association), for the 22nd Parisian edition (from 16 to 19 November 2017) and the first edition in the Grand Duchy next month.
The works, which feature original Christmas tree creations, will be up for auction at the Cercle Cité with proceeds going towards Fondation Cancer. Access to the auction is free but requires an invitation.
The 16 artists who created works for Luxembourg have been named as: Ali Mahdavi, Anne-Marie Herckes, Carine Mertes, Christian Ghion, Christian Louboutin, Ezri Kahn, Francis Kurkdjian, Princess Hermine of Clermont Tonnerre, India Mahdavi, Jean-Claude Jitrois, Jean -Paul Gaultier, Hubert Barrere, Marc-Antoine Coulon, Reza Kianpour, Ruben Alterio, Rupert Shrive.
In addition to the auction, the event includes a prestigious dinner prepared by four Luxembourgish chefs and another four sous-chefs. Again, this is by invitation only.
The exhibition will be open to the public, free of charge, from Thursday 7 to Thursday 14 December between 12:00-19:00 at Hotel Place d'Armes, Luxembourg-ville.
For more information, visit www.lessapinsdenoeldescreateurs-luxembourg.lu.