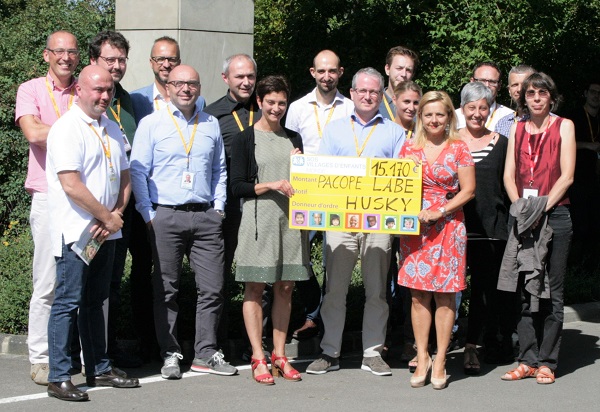 Gerardo Chiaia, Stefano Mirti, Aurore Fryns and Husky runners surround Sophie Glesener and Laurence Wangla of SOS Villages d'Enfants Monde;
After celebrating a decade of partnership with SOS Villages d'Enfants Monde, Husky Injection Molding Systems SA is continuing its strong commitment with the association in 2017 to ensure that no child grows up alone and that everyone is Assured of having all that they need to develop well within a community where it has its place; by tradition, 70 Husky employees signed up for the good cause and registered for the ING Night Marathon Luxembourg on 27 May.
Husky, represented by Gerardo Chiaia, President Beverage Packaging, and Stefano Mirti, President Hot Runners and Controllers, invited Sophie Glesener, Director, with Anne Schweizer, Head of Partnerships, and Laurence Wangla, Project Manager, of SOS Villages d'Enfants Monde, for the donation of a cheque wort €15,170 and presentation of the programme of Labé in Guinea that the company, in a spirit of sustainability, is supportig for a second year. This ws an opportunity for Gerardo Chiaia and Stefano Mirti to congratulate the employees for their sports effort and their commitment to the cause of the children through projects of SOS Villages d'Enfants Monde and to remind people of the necessity for a socially responsible company to support projects that are in line with true sustainable and equitable development.
SOS Villages d'Enfants Monde representatives warmly thanked Husky's management and employees, the runners and also all those who are involved in other projects of the association such as Aurore Fryns, Project Manager Transformation, who joined the Nepal Challenge 2017 team last April.
"We are delighted that once again this year your solidarity is committed to the community support programme of Labé in Guinea, a project in full development and intends to strengthen every member of the community, starting with young people, to be autonomous, strong and mobilised to ensure that children meet their basic needs, protect them from all forms of violence and respect their rights" emphasised Sophie Glesener.
Some 900 children, half of whom are girls from 250 families, are involved in this five-year programme, which focuses on child protection supported by an economic strengthening of tutors and capacities of all.