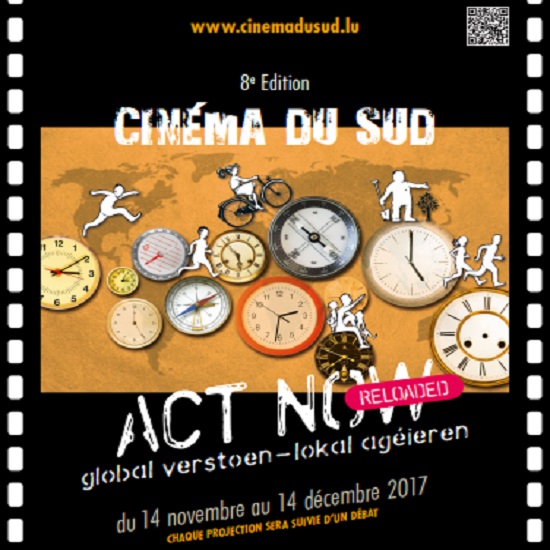 This year's "Cinéma du Sud" film festival will be held from 14 November to 14 December 2017 in various cinemas across Luxembourg under the theme "Act Now- Reloaded- Global verstoen - lokal agéieren".
The project was launched in 2010 to raise public awareness of themes related to development, through the medium of cinema, with the theme of the festival changing every year. This year builds upon last year's "Act Now. Understand globally, act local" initiative.
This year's festival will open with a screening of Sonia Kronlund's 2016 documentary Nothingwood on the life of Afghanistan's greatest director-actor-producer, Salim Shaheen.
SCHEDULE
- 14 November @ CNA-Dudelange "Nothingwood" (85 min., in Dari with French subtitles): About 100km from Kabul, Salim Shaheen, Afghanistan's most popular and prolific actor/director/producer, arrives to screen some of his 110 films and start filming the 111st. This journey, in which Shahenn leads his band of eccentric and uncontrollable actors, is an opportunity to get acquainted with this Afghan cinema legend who releases Z-Series movies in a country at war for over thirty years. Nothingwood delivers the story of a past life to fulfil a childhood dream.
- 16 November @ Kulturfabrik-Esch-sur-Alzette "Before the Flood" (96 min., in English with French subtitles): Fisher Stevens' "Before the Flood", deals with the true threat of climate change. Presented by National Geographic, the film features Leonardo DiCaprio on a journey as a United Nations Messenger of Peace to witness climate change first hand. The film follows DiCaprio as he travels to five continents and the Arctic speaking to scientists, world leaders, activists and local residents to gain a deeper understanding of the most pressing environmental challenge of our time. Counting on the power of the individual, the film shows concrete actions that we as a society can take to prevent the disruption of life on our planet.
- 21 November @ Kulturfabrik-Esch-sur-Alzette "Futur d'espoir" (94 min., in French with English subtitles): Guillaume Thébault's documentary discusses the economic and environmental challenges facing the agricultural world and offers alternatives put forward by those he interviewed. The interviewees included those who support food sovereignty and the right to food, who present their alternatives as potential solutions to current agricultural systems.
- 22 November @ CNA-Dudelange "Syria Children on the Frontline" (48 min., in Arabic & English with French subtitles): Marcel Mettelsiefen and Anthony Wonke's 2014 documentary shows the realities of life on the frontline in Aleppo, Syria through the eyes of children. "Children on the Frontline" looks at the impact of the war and the price being paid by Syrians as it rages on. the documentary tells the story of five children: Hammoudi, Helen, Farah and Sarah, Free Syrian Army Commander Abu Ali's children, and Aboude, a singer and poster boy for the Syrian uprising. Their lives have been changed forever and as the world around them slips into chaos, all five show amazing resilience, forsaking their innocence and adapting to life on the frontline.
- 22 November @ CNA-Dudelange "Watani My Homeland" (40 min., in Arabic & English with French subtitles): Oscar Nominee for Best Documentary Short "Watani : My Homeland" tells the story of a family's escape from war-torn Syria and their attempt to make a new life in Germany. Hammoudi, Helen, Farah and Sarah are the young children of Free Syrian Army Commander Abu Ali. Living on the frontline of the Civil War in Aleppo, they are forced to flee their country after their father is captured by ISIS. Director Marcel Mettelsiefen spent over three years filming in both Syria and Germany to bring audiences this powerful reminder of the ordinary citizens trapped in the midst of a failure of international politics.
- 29 November @ CNA-Dudelange "Ghost Hunting" (94 min., in Arabic with French subtitles): Raed Andoni's "Ghost hunting", awarded the best documentary at the Berlinale, gathers a team of men who have stayed, as the director had, at the al-Moskobiya interrogation centre in Jerusalem. The documentary deals with the world of Israeli prisons, reports of abuse of power and humiliation in an original way. It talks about prisons through the creation of cinematography, to reconstitute the prison setting, to take on different roles (soldiers, detainees...) as if to drive away the ghosts of suffering and to move towards healing.
- 30 November @ Le Paris-Bettembourg "The Song of the Flower" (Le chant de la fleur, 61 min., in Quechua & Spanish with French subtitles): Will an ancestral song save the Amazon? Threatened by the oil industry, an Amazonian people in Ecuador is fighting an endless struggle for its survival. This documentary by Jacques Dochamps and José Gualinga tells the story of the Sarayaku's commitment to preserve their environment, the Amazon forest, but also their future. Inspired by an ancestral shamanic song, this people engages in an unheard-of challenge of universal significance: the Frontier of Life, a circle of sacred flowers. After the screening, there will be a debate attended by the director Jacques Dochamps.
- 4 December @ Cinémathèque "Freightened- The Real Price of Shipping" (90 min., in English with French subtitles): 90% of the goods consumed in the West are manufactured in far-off lands and brought here by ship. The cargo shipping industry is a key player in world economy and forms the basis of our very model of modern civilisation; without it, it would be impossible to fulfil the ever-increasing demands of our societies. This 2016 documentary by Denis Delestrac reveals in an audacious investigation the mechanics and perils of cargo shipping; an all-but-visible industry that relentlessly supplies 7 billion humans and holds the key to our economy, our environment and the very model of our civilisation.
- 6 December @ CNA-Dudelange "500 Years" (108 min., in Spanish with French subtitles): In Pamela Yates' 500 YEARS, the Mayas lead Guatemala to an historic tipping point, from the genocide trial of the former dictator General Rios Montt to the citizen uprising that overthrew President Otto Perez Molina. While the indigenous peoples of Guatemala are not strangers to oppression, with the recent events that have taken place over a tumultuous three-year period, change finally seems possible when their resistance movement unites with the will of the public to put an end to corruption.
- 12 December @ CNA-Dudelange & 14 December @ Sura-Echternach "Urmila My Memory is my Power" (87 min., in Nepalese & English with German subtitles): Susan Gluth's 2016 documentary deals with the story of Urmila Chaudhary who, at the age of six, was sold by her family as a household slave. She was eventually freed at the age of 17 and since then, she has been trying to find her own way in life. This intimate and touching portrait follows Urmila's quest for justice and her dream to end child slavery in Nepal. First, she must break through the control of those around her and fight against the inner demons of her past to begin to make her own life choices.
Each film screening will be followed by a debate.
More information is available at www.cinemadusud.lu.