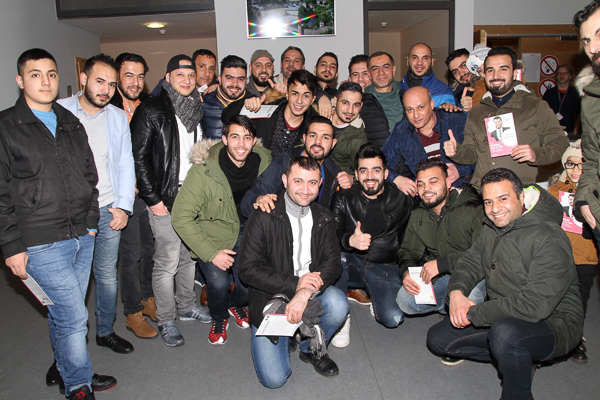 It seems a little ludicrous to suggest it was brave for a man who has survived two wars with a smile on his face and makes fun of ISIS for a living to stand on a stage, but it was brave of Ahmed Albasheer to stand up in Neimenster yesterday evening to deliver his first ever gig in the English language. And in the process, it seems that the Iraqi comedian discovered another mission for the sharp sense of humour that is his weapon of choice against the violent, corrupted world that has shredded his society, killed his friends, and forced Ahmed himself into exile.
"I'll never forget this as long as I live," he said exiting the stage at the end of an hour-long musing on the vagaries of Luxembourgish and Iraqi cultures that was in turns funny, unsettling and enlightening — no-one who was there is going to forget too soon the fate that awaits an Iraqi groom before he ties the knot, at the hands of his closest friends.
This was Ahmed's first ever gig in English, and the idea made him a little nervous when it was first put to him. "I was surprised. I don't know how to make people laugh in English," he said after the show. But he took up the challenge anyway.
Pulling up a little short at the end of his routine, the host of the Albasheer Show, one of the most successful comic productions in the Middle East, held an impromptu Q&A session that had everyone sitting forward in their seats. It is more than a little shocking when someone casually drops how some of the jokes he just told — the telling of which we take so unthinkingly for granted — would get him killed if he told them at home.
It turned out that he's as engaging when he's serious as when he's funny, and the packed auditorium was with him almost every step of the way, and it would be fair to say that most left with a wider appreciation for a country they have mainly experienced through images of its destruction.
"I felt very appreciated and proud that foreign people came to watch some Iraqi guy trying to be a comedian, and that they supported something that they don't have any relationship with like this."
Invited by Neimenster as part of the Humour for Peace Festival, Ahmed's humour made him a perfect fit said press officer Ricardo Baptista.
"This festival was launched in 2007 and from the beginning was dedicated to Walid Hassan, an Iraqi satirist who was murdered in 2006 by extremists who didn't accept his humour. Ten years after the first edition we think it's just great to have an Iraqi stand-up comedian participating in the festival," he said.
To one of the most successful comics in the Arab-speaking world, humour has long served as a medicine for treating the psychological wounds of surviving conflict. "It's the best way to treat any sickness, and the best way to get over your troubles, especially in the Middle East," he said. "They've had so many bad things in their lives and they need to live and to laugh."
The man who fears ever being silenced hopes that humour can help to pull Iraq towards a more liberal, pluralistic society, where one can speak and criticise without fear. Yesterday's performance though opened up another possibility in his mind: bringing Iraq to the world so that we can also understand it better.
"Starting from today, I think yes I will start to give a good message about Iraq," he said. "You saw what I said. It wasn't always nice, but I told the truth.
"When someone knows the negative things about another, it's easier to live with it. If my friend doesn't like apples, I won't hurt him by bringing apples to his house.
"This is what I'm trying to do."
Ahmed left Iraq in 2012, after witnessing one suicide bombing too many. Now based in Jordan, from where he can safely speak his mind, he now hosts the Albasheer Show, using his humour to spear the ancient systems of discrimination and very moderns webs of corruption that undermine basic principles of humanity and rarely hesitate to persecute and imprison critics.
"The people in my government cannot take a joke," he said while on stage, possibly one of the saddest, and most dangerous for the governed, things one could say about a nation's leadership. But Ahmed hopes he can go back one day, and perhaps his first show in Luxembourg will be part of that process.
"What I've seen here, I don't think I'll see anywhere else," said Ahmed. "Especially that it was my first experience and they opened the space for me to do that."
The Humour for Peace Festival concludes with Krazy Kat, a revival of a classic American cartoon accompanied by the Ensemble Calliopée at 17:00. Tickets for the 17:00, Sunday 12 February show are €12 full/€6 reduced, and €6 for the 10:00, Monday 13 February show.