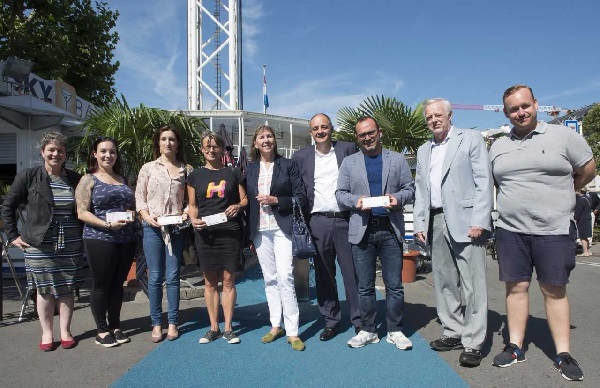 On Tuesday 18 July 2017, the City Skyliner donated 100 free entrance tickets to the Luxembourg organisations Caritas, the Red Cross, Kannerland and Konviktsgaart.
In the presence of the College of Mayors and Aldermen of the City of Luxembourg, the City Skyliner, located on the Place de la Constitution, donated 100 free entrance tickets to the local charities Caritas and the Red Cross, as well as to the educational centre Kannerland and the Konviktsgaart retirement home.
The initiative aims to enable people in difficult social and financial situations as well as children and the elderly to take full advantage of this temporary summer attraction in the heart of the capital.
The City Skyliner is the highest mobile observation tower in the world and it has arrived in Luxembourg this summer. At 81m high, the tower offers 360-degree panoramic views over Luxembourg City with its glass windows. The attraction can be found on Place de Constitution, where it will stay in place until 6 August 2017.
Photo by Photothèque de la Ville de Luxembourg / Charles Soubry