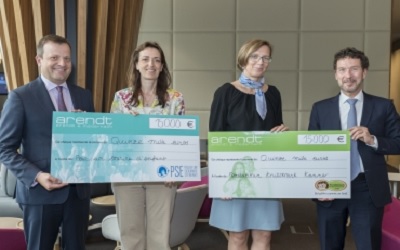 On 11 July 2017, Arendt & Medernach showed once more its support for the associations "Fondatioun Kriibskrank Kanner" and "Pour une Sourire d'Enfant asbl" by presenting them each with a cheque worth €15,000.
The funds donated to the associations come from the registration fees at the Arendt Financial Law Forum, one of the major annual events organised by the Arendt & Medernach study. This event brings together legal experts and other decision-makers from the financial sector to inform them about legal, regulatory and tax developments impacting on their business.
Jean-Marc Ueberecken and Philippe Dupont presented the cheques to each of the two structures a fortnight ago, on behalf of Arendt & Medernach. The representative for Pour une Sourire d'Enfant, Marie-Hélène Trouillez, received the cheque for €15,000 for the non-profit organisation, whilst Anne Goeres received the donation for Fondatioun Kriibskrank Kanner.
The association Pour une Sourire d'Enfant supports children in poverty in Cambodia, through the supply of food, material, housing and schooling. This year, the funds will be used to provide Khmer language and mathematics support courses during the two months of holidays in September and October 2017 to 770 children at risk in Phnom Penh. This support will make it possible to combat early school leaving.
The other recipient of these donations, Fondatioun Kriibskrank Kanner, works for children with cancer or a rare life-threatening disease. Its missions are accompanying the families concerned, raising awareness of childhood cancer and supporting onco-paediatric research. This year, the funds will be used to fund the "LETZ GO GOLD" awareness and solidarity campaign, which will take place in September 2017. The objective is to fulfil one of the foundation's aims to spread public awareness of childhood cancer, and offer all those concerned by this cause the possibility of coming together in a series of awareness and solidarity events, such as the illumination of buildings in Luxembourg, organising a concert, or the wearing a golden ribbon.