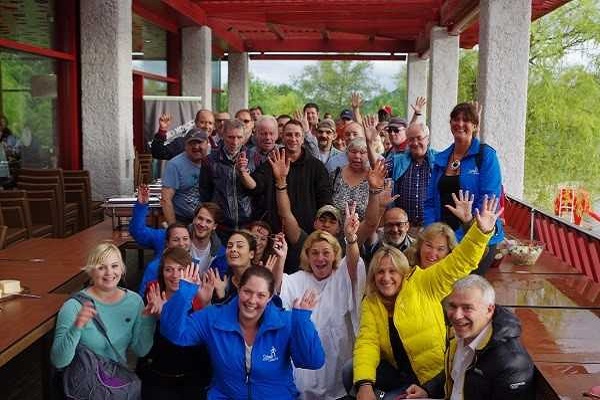 On Thursday 27 July, Stëmm vun der Strooss held its traditional annual summer excursion, in which 101 people in need participated.
Last Thursday, as part of the yearly Stëmm vun der Strooss charitable excursion, over 100 people who normally frequent the social canteens had lunch at Le Chalet and enjoyed big band memory concert.
64 people from Esch-sur-Alzette and its surroundings went to discover Saarburg in Germany, while a group of 37 who usually eat at the canteen at 7 rue de la Fonderie in Hollerich instead visited the Roman villa of Borg in Germany, had a picnic on the banks of the Remerchen ponds and took a bike ride along the Moselle.
Nathalie Chomat chose to invite Stëmm's beneficiaries to dine at her restaurant Le Chalet in Remerchen because she wanted to meet people who live in difficult conditions. The excursion was organised with support from the Schengen municipality who offered the entrance passes to the Biodiversum Museum and to the lake, the Dräilännereck section of the OGBL who paid for transport costs by sponsoring two buses, the Café Lorrain who provided breakfast, and the companies Förch and Total who distributed goodie bags and jackets. Dan Kersch, Minister of the Interior, was also present.
The traditional summer excursion ended with a public outdoor concert by 20 musicians of Big Band Memory, for which the Mondorf-les-Bains and Schengen municipalities printed and distributed the flyers and posters.