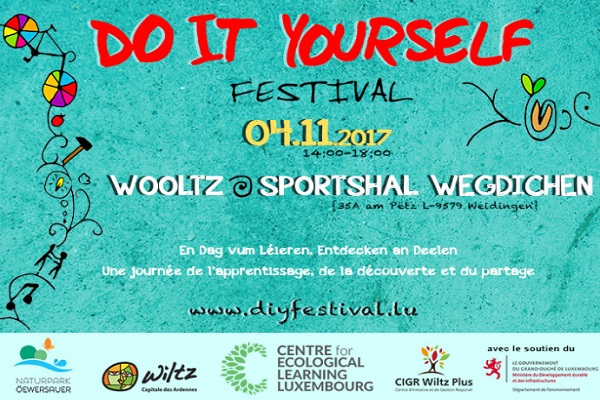 A Nordic version of the "Do-It-Yourself" festival, organised by the municipality of Wiltz, will be taking place this Saturday 4 November 2017 at Sportshal Weidingen from 14:00 to 18:00.
The Municipality of Wiltz, the CIGR Wiltz, Naturpark Öewersauer, as well as CELL and the new regional group Transition Nord have joined forces to host the first Nordic version of the DIY festival, which forms part of the municipality's long-term strategy for a circular economy.
The festival was initiated by the Luxembourg Transition movement, whose goal is to implement a society that is less dependent on oil, happier and above all more resilient through learning from one another's skill sets. As such, the festival will be the result of everyone's contributions, for instance repairing items, exchanging seeds or making furniture from wooden pallets.
The "free your stuff" space will be reserved for the bartering of objects, clothes and services so participants can bring whatever they wish to offer to someone in exchange for another object of their choice.
No money will be exchanged at this festival and admission is free.
Contributions in the form of drinks or snacks are welcome. Supper will be served- using food contributions- between 19:00 and 21:00.