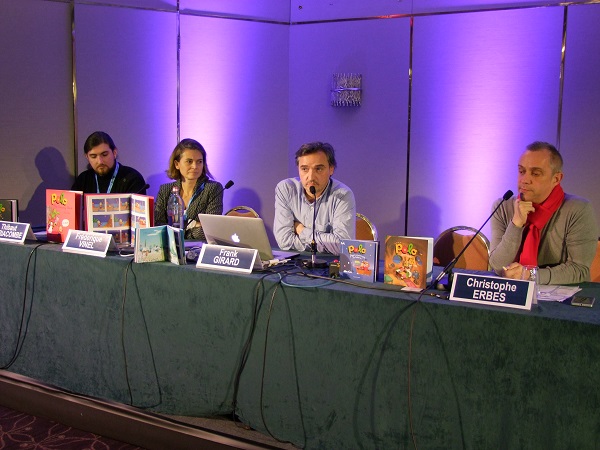 On Friday, the last of the 3-day Cartoon Digital conference being held this week at the DoubTree by Hilton in Luxembourg-Dommeldange, Luxembourg's Fabrique d'Images participated in the presentation of the Polo case study; Polo started off as a book published by Bayard Group which evolved into a tv series and then animation, etc.
Frank Girard of Bayard Group in France explained that the publishing group - which includes the Milan brand too - originally operated through the press (magazines, etc.), the started to publish books, and on to audiovisual and digital; a cross-media publisher for all generations. The group has 10 million readers monthly with 1.5 million subscribers, with a substantial number of children as regular readers.
Regarding the Polo project, it is a co-production between the Bayard Group and Fabrique d'Images that now goes beyond the tv show, now in its 2nd season. Polo has its own website and a video game for pre-schools, in collaboration with Fabrique d'Images video game department.
Frédérique Girard of Fabrique d'Images explained that their animation studio Picture Factory is involved in the Polo project. She stressed the importance of having finance which can then support a series, with their 13 year-old studio in Luxembourg providing the expertise, and confirmed that Polo is just one of three projects in which they are working together with Bayard which has the expertise in publishing and digital content.
She went through the evolution of Polo's universe, from print publishing to a tv series, then to a digital book, video game and merchandising. With well-exposed brands, the complexity of the digital content can increase. The short films are just 6 minutes long each, but do not have dialogue which presented a real challenge. From the 104 episodes, they can re-do the books in another format, with the addition of text to aide parents (such as re bed-time stories). Digital books (on tablets) and presence on television hope to boost merchandising. Distribution has included Canal+ who have bought into the project, which also aids financing, as well as in other countries such as Sweden and Korea.
She introduced the director, Caroline Origer from Luxembourg, and described her as young and talented. She also described the Polo video game as allowing young children (3-7 year-olds) to participate in adventures and undertake challenges providing rewards.
Thibaut Auriacombe of Fabrique d'Images explained that it is important for audiences to interact with the game. The game includes issues related to climate change and a world in which Polo has to save his friends. There are both mini-games and adventure-level, all related to the weather machine which is broken and needs to be fixed. The locations are based on Polo's house as well as islands, with transport via boat.
Frédérique Girard mentioned too that the app has seen circa 40,000 downloads.
Photos by Geoff Thompson (above, L-R): Thibaut Auriacombe, Fabrique d'Images; Frédérique Girard, Fabrique d'Images; Frank Girard, Bayard Group; Christophe Erbes (Moderator)