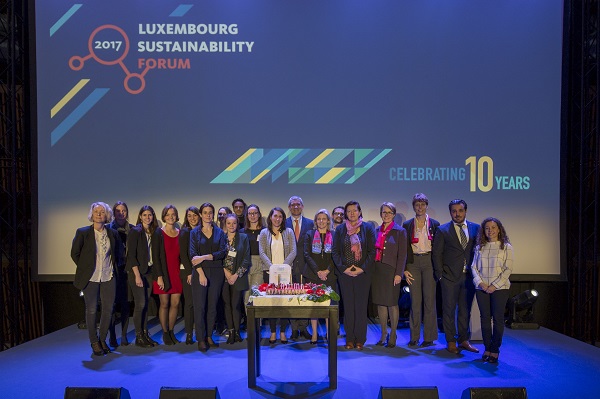 On Monday 21 November 2017, the 7th Luxembourg Sustainability Forum was held, bringing together more than 500 participants around a diverse programme and at the height of the celebrations of the 10th anniversary of the leading network of Corporate Social Responsibility (CSR). in Luxembourg - IMS.
This was an opportunity to bring together members, stakeholders and many distinguished guests. Headlined by Natasha Tsakos, artist, ambassador of the United Nations 2030 artist collective who inaugurated the Forum with her big show Climax; Jean Jouzel, climatologist and glaciologist, former Vice-Chairman of the IPCC Scientific Group (2007 Nobel Peace Prize Organisation); and Lewis Pugh, Extreme Swimmer and UNEP Ambassador. All three expressed urgency in acting for the planet and a more resilient and sustainable world for future generations.
In addition to these big names, IMS invited representatives of international and Luxembourg companies, the political scene and the academic world to discuss various topics such as urban agriculture, happiness at work or to unveil the results of the IMS survey on corporate social responsibility (CSR).
IMS Luxembourg highlighted the urgency of joint action against climate change. An exclusive exhibition of images of the astronaut Thomas Pesquet illustrated, from space, the fragile beauty of the blue planet.
With 120 members, IMS is now recognised for its CSR expertise and leadership in setting up innovative solutions for companies in the Grand Duchy.