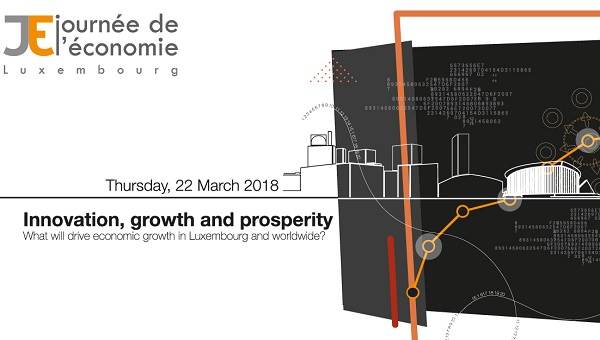 PwC Luxembourg has announced that it will be organising its annual Economy Day on Thursday 22 March 2018 at at the Chamber of Commerce in Luxembourg-Kirchberg.
Things are currently looking bright in Europe as far as economic growth is concerned. The European Commission recently revised its projection upwards to 2.4% for the year 2017. According to the European Commission's economists, this is the highest it has been since the 2008 financial crisis. That said, is this enough to ensure that growth is sustainable? In an increasingly fragmented world and against a background of geopolitical instability, countries must rely on new drivers to grow their economy. In this context, the increasingly significant role played by innovation – both in Luxembourg and worldwide – has resulted in a great number of countries digitising their economies. But will those new models help generate sustainable productivity gains?
Those issues will be at the heart of the twelfth Journée de l'Economie (Economy Day 2018) from 09:15 - 16:30.
An ever-changing economic environment
Economic growth is back on track worldwide. The effects of the latest financial crisis are gradually wearing off and countries and regions across the world are enjoying varying degrees of economic recovery. However, a number of risks and uncertainties are heaving into view, as renewed geopolitical tensions and the consequences of the Brexit vote are disrupting the global economic environment and are compelling countries to find new growth drivers if they are to enjoy sustainable economic growth. Luxembourg has initiated several projects to diversify its economy and particularly to develop its information and communication technology sector; these have helped spur growth in the country. The current challenges it faces, a combination of demographic pressure and the influx of cross-border workers will have to encourage Luxembourg to innovate if the country wants to be able to bear the effects of economic growth in the long term.
In the morning, hear from an exceptional line-up of speakers, including insights from:
- Marcel Fratzscher, President of DIW Berlin (Deutsches Institut für Wirtschaftsforschung), Professor of Macroeconomics and Finance at Berlin Humboldt University and member of the Advisory Board of the Ministry of the German Economy;
- Mariana Mazzucato, Professor of Innovation Economics and Director of the Innovation and Public Purpose Institute, University College London (UCL).
In the afternoon, there will be a panel discussion between international experts, local politicians and businesspeople, focusing on growth - including sustainable growth - in the Luxembourg context.
Finally, there will be two parallel sessions:
- A working session (15:00 - 16:30), in collaboration with Fondation IDEA, on the implications of economic growth for Luxembourg's society and infrastructure; and
- A parallel conference (15:00 - 15:45), entitled "Healthy society needs a healthy economy - What is the role of business?" aiming to illustrate in concrete terms what it means to develop a sustainable core business strategy for private business.
For the full programme and registration, see www.jecolux.lu​