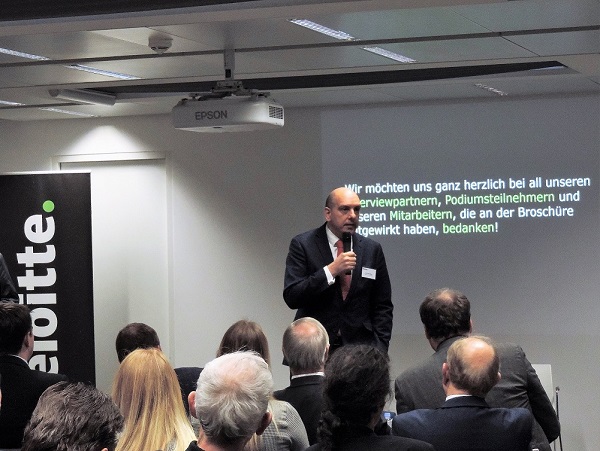 Andreas Meier, Partner & GBC Leader, Deloitte;
On Tuesday, Deloitte Luxembourg took advantage of the launch of the fifth anniversary edition of its German market analysis to discuss the challenges and opportunities of the Rifkin plan for Luxembourg with German-speaking business representatives from the region; the event and the brochure are organised annually by Deloitte Luxembourg's German Business Community, to promote dialogue among the German-speaking market.
"In addition to our German Fund Days, we believe it is important to address once a year a subject that affects businesses in Luxembourg. In recent years we have tackled current issues such as digitalization and diversity in companies. This year's program features the Rifkin plan and its ground-breaking vision of Luxembourg's future," explained Andreas Meier, Partner and German Business Community Leader at Deloitte Luxembourg.
The plan produced by Jeremy Rifkin aims to make Luxembourg a more efficient, more digitalised, and more integrated country that depends less on finite resources and is more of a "circular economy." Both the conference and the brochure, which displays a new title and a fresh design for the anniversary, focus on comments about the Rifkin plan received from various business sectors: from representatives of the investment fund industry, real estate, Professionals of the Financial Sector (PSF), the public sector, healthcare and telecommunications, and the views of trade and industry.
"We are trying to get the broadest possible range of opinions, to reflect our overview of the market. The comments we have received clearly show that market participants warmly welcome the Rifkin plan, and the general mood is positive in this regard. Nevertheless, much remains to be done, especially in the field of transport and mobility," said Jan van Delden, Partner at Deloitte Luxembourg, and responsible for this year's brochure.
Interviewees see a clear advantage in Luxembourg's small size, which is a plus for some market participants in terms of connectivity and the development of smart cities. On the question of whether Luxembourg as a whole can play a pioneering role in the development of the kind of society that Rifkin envisions, the jury is still out.
At the conference on 13 March, these matters were discussed by Vanessa Tarantini, Administrative Attaché at the Ministry of Economic Affairs with responsibility for energy, Bob Greiveldinger, Advisory Member of the Group Management Board Technology and Operations at Paul Wurth, Jérôme Merker, Attaché at the Luxembourg Chamber of Commerce, Gerard Hoffmann, CEO at Proximus Luxembourg, and Michael Duesberg, Member of the Executive Board of Okoworld AG. ​