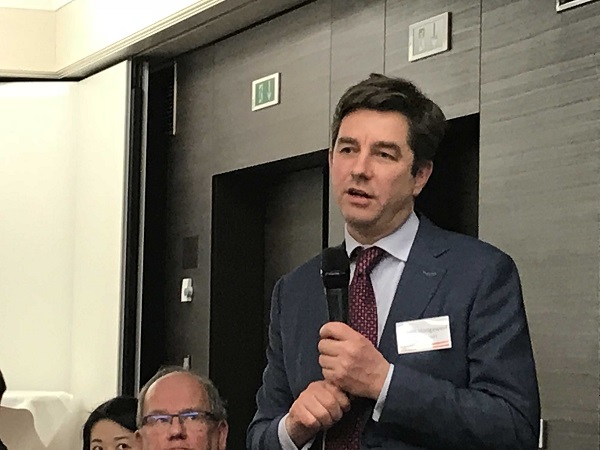 Rupert Hoogewerf, Chinese Chopsticks 2018 Dinner;
On Wednesday evening the China Chopsticks annual dinner was held at the Hotel Parc Alvisse in Luxembourg-Dommeldange which attracted over 120 people.
Francis Hoogewerf introduced the event which was organised by the Diplomatic Council. He said that the China influence in Luxembourg is very strong, with a number of Chinese banks set up in the Grand Duchy from where they are coordinating their European network of offices.
Rupert Hoogerwerf was brought up in Luxembourg and is fluent in not only in Luxembourgish but also in Japanese and Mandarin Chinese. He has been running his business, the Rich List of China, for almost 20 years (since 1999) through the Hurun Report.
After dinner, Rupert Hoogewerf talked about "Tapping into China's Entrepreneurs" and said that each year more and more people are becoming interested in China. He recalled his address last year and talking about the Unicorn bike-sharing app which has since become ubiquitous within the last year.
He talked about one of the most polluted town in China becoming one of the cleanest within 5 years, illustrating that there is a lot of leadership in GreenTech, etc.
Now "everyone" is talking about Blockchain; ye revealed that there are more Blockchain millionaires in China than in the US.
The business confidence index in China jumped 64% within just one year, with 37% of high net worth individuals believing that China will be ahead of the US within 10 years. Overseas investments from China are up by 50% within the past 12 years, even though there are very strict currency controls, mainly investing in real estate. Here, Los Angeles is the top destination, followed by Seattle, San Francisco, New York and Vancouver, with London in 14th position as the top non-US destination.
The top individuals (wealth-wise) in China are Xu Jiayin (real estate developer), who has doubled in value within 4 years; followed by Pony Ma (doubled within the last year) and Jack Ma (Alibaba).
He revealed that they discovered 2,340 people worth $300 million; however, there are probably twice this number not yet identified. Also, within the last 19 years, Chinese have topped the rich list on 16 of these years.
He related that Shenzen is one of the boom areas at present, with business taking him here on average of once per month over the past few months.
Regarding blockchain, leadership is coming from China. Also, with China becoming more regulated and more competitive, Chinese are bringing their businesses abroad, to Indonesia, Brasil, India, etc.
To do business in China, the alumni networks are very important.
The top Chinese brands internationally are Huawei, Tencent and Fosun, with mobile telephone the top sector.
The Chinese new year is happening next week, with the Year of the Rooster giving way to the Year of the Dog.​