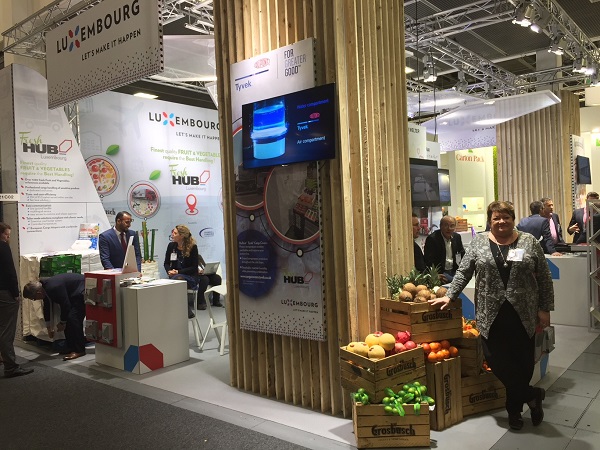 The Cluster for Logistics and its members represented Luxembourg know-how and products at the specialised Trade Fair FRUIT LOGISTICA in Berlin from 7 to 9 February 2018; the Cluster members Arthur Welter, Cargolux, DuPont and Grosbusch Fruits & Vegetables joined the "Fresh Hub Luxembourg" stand organised in cooperation with Luxembourg's Ministry of Economy and the Chamber of Commerce.
It is the first time that Luxembourg has organised a country booth to this specialised trade fair. This exhibition is the leading industry get-together about perishables and the fresh produce business. It provides a complete picture of the latest innovations, products and services at every link in the international supply chain. The fair is a perfect networking ground with key decision-makers as it attracts over 75,000 visitors and 3,000 exhibitors.
Fruits and vegetables are the best products of the world", said Grosbusch Director René Grosbusch, but they require special handling. Luxembourg is capable of offering the required full high-quality services and the "Fresh HUB Luxembourg" stand regroups companies that work together and complement each other well. While Grosbusch is a renowned fruits and vegetables distributor in Luxembourg and the Greater Region, the industrial global player DuPont offers high grade Tyvek cargo covers "made in Luxembourg" to protect perishables.
On the logistics side, Luxembourg is represented by Arthur Welter Transports, one of the major national players in road transport, and Cargolux, Europe's leading all-cargo airline. "We are very pleased that we were able to assemble all these actors of the Fresh HUB Luxembourg. With these four companies we can highlight a full offer of services around the Cargocenter which is the sixth largest air freight hub in Europe," said Cluster Director Malik Zeniti.
Luxembourg has a role to play in a growing business
With its high value adding services, Luxembourg certainly has a role to play in the specialized fruits and vegetables sector. Dedicated companies offer professional cargo handling of sensitive produce and cool zones. Next to the extensive road feeder system, Luxembourg offers specialised players with modern warehouses like Grosbusch and Arthur Welter and dedicated hubs like the Cargocenter at the airport and the new rail platform in Bettembourg.
Moreover 70% of EU market can be served within one day and fast lane solutions are readily available as time- and cost-efficiency play a crucial role. The multilingual service and easy access to customs and release agencies allow for tailor-made solutions compliant with clients' needs.
Grosbusch Fruits & Vegetables was pleased with the joint presence at the Fruit Logistica. Goy Grosbusch stated "We confirmed the international potential for our business here in Berlin and found interesting opportunities worldwide through the visibility of the Luxembourg national pavilion". The well-known company based in Ellange is well prepared for future growth as it invested €20 million last year in its new warehouse, offering 12,500 m2 on top of the existing 4,500 m2.
The demand for fast and reliable air transport is booming as well, according to Cargolux. In 2017, more than 2.4 million tonnes of fresh products have been transported worldwide on board of Cargolux aircrafts, a 3.3% increase compared to 2016. With more than 1.1 million tonnes, fruits and vegetables comprise around 46% of all fresh products in air cargo.
The national presence on this fair supports the recognition of Luxembourg as a diversified logistics hub. To raise the awareness and foster networking, the Cluster for Logistics organised a booth party on 8 February that attracted a high number of international clients and partners.
Putting Luxembourg on the map
By joining forces and building a national pavilion with public and private actors (CC, C4L, MinECO), Luxembourg managed to position itself as a hub for agricultural perishables and ultra-perishables in Central Europe.
With more than 75.000 visitors last year, the Fruit Logistica is a very popular fair, considering that it focuses on a "niche" aspect of the logistics sector. The spectrum of exhibitors comprised:
* Fresh fruit and vegetables
* Packaging and labelling
* Transport and logistical systems
* Produce handling and storage
* Computer and internet solutions
* Cultivation systems
* Greenhouses and greenhouse technology
This first edition of the Luxembourg "Fresh Hub" at the Fruit Logistica paves the way for future participations at the fair, but also for further collaborations between Luxembourg-based actors and partners abroad.
Many passers-by, be they visitors or exhibitors at the Fruit Logistica, admitted that the pavilion and the messages it conveyed, put Luxembourg on the map.