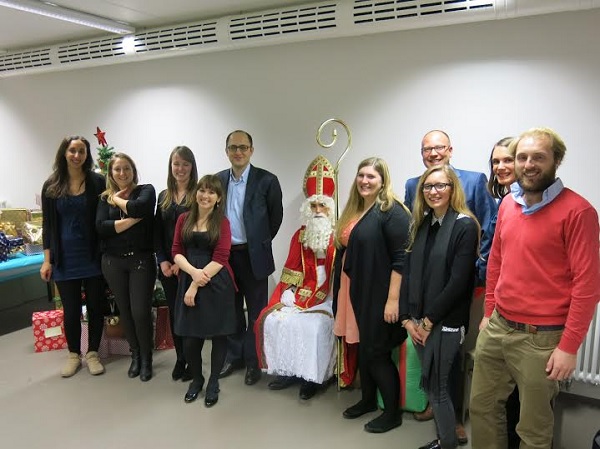 As part of its traditional 'Impact Day', Deloitte Luxembourg held a Saint Nicholas evening on Friday 4 December 2015 at the Foyer Lily Unden reception centre for asylum seekers, where more than 120 gifts were distributed to the children residing there.
Around twenty volunteers from the Tax Department (Daidalos) of the professional services firm rallied together to raise funds, buy and wrap gifts and organise the evening. €1,300 was collected overall and dedicated to buying gifts, cakes and sweets, with additional gifts in the form of donations from Deloitte employees also distributed. In total, more than 120 gifts were distributed by Saint Nicholas to children at the Foyer, and the little ones also had the opportunity to decorate a Christmas tree.
"The objective of this initiative is to leave a positive social impact in the communities in which we operate," commented Frederic Sabban, Manager in charge of CSR projects at Deloitte. "This action in support of the 'Migrants and Refugees' service of the Luxembourg Red Cross generated great enthusiasm among our employees. We could count on a large number of donors and volunteers who made possible this unforgettable event for these children."
"We appreciate the effort of solidarity shown by Deloitte," said Jeanne Raquin, Manager of the Foyer Lily Unden. "The children were clearly happy and the parents also shared this joy. Beyond material assistance, this action has created social interactions."
Foyer Lily Unden, located in Luxembourg-Limpertsberg, is a first reception centre for asylum seekers and is managed by the 'Migrants and Refugees' service of the Luxembourg Red Cross. It currently houses 148 people at a capacity of 150, and informs and assists these asylum seekers throughout their stay in Luxembourg. This manifests itself in the provision of a place to live, food and clothing, support in administrative procedures and special support specific to the individual situation of each asylum seeker.
Photo by Luxembourg Red Cross