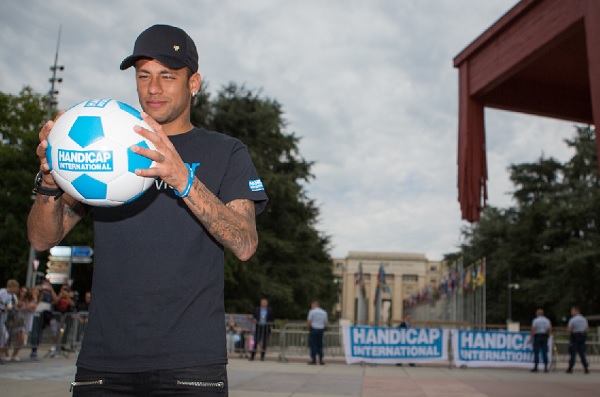 Brasilian footballer Neymar Jr has today become the new ambassador of the NGO Handicap International, on the occasion of an event at the Place des Nations in Geneva.
Through this partnership, Neymar Jr. puts his immense popularity at the service of a cause: the most vulnerable in the world, people with disabilities in poor countries, victims of conflicts and natural disasters.
In concrete terms, the first action of Neymar Jr as the ambassador of Handicap International was to send a message of support to people with disabilities in the world. On 15 August at 15:00, Place des Nations in Geneva, the footballer climbed up the Broken Chair, a work of art by the Swiss artist Daniel Berset, created 20 years ago by Handicap International in front of the UN headquarters in Geneva to call for the banning of anti-personnel mines.
From the top of this iconic Geneva sculpture, Neymar Jr. addressed a message to the nations of the world, calling for more inclusion of people with disabilities in society. Symbolically, this message took the form of a soccer ball with the logo of Handicap International, in the alley of the flags located in front of the Palais des Nations.
More broadly, Neymar Jr made the choice to commit to Handicap International and to promote all its actions in favor of people with disabilities in poor countries, victims of natural disasters and conflicts.
The star and the NGO met on the issue of fitting amputees, which is an expensive issue in the heart of Neymar Jr and on which he had already committed. He sought to support actions on the subject on a global scale and discovered in early 2016 the work of Handicap International. He expressed the wish to go into the field to see the projects of the association, which has not yet been possible for reasons of his busy agenda.
In October 2016, he expressed on social networks his support for the actions of the association in Haiti, following Hurricane Matthew. And he responded to the invitation of Handicap International to come to Geneva for the "Broken Chair" event. On this occasion, he became the first international ambassador of the association.
Photo by Pierre Albouy © Handicap International