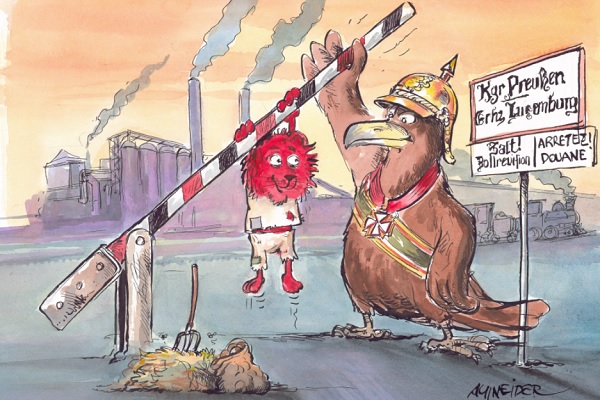 Credit: Carlo Schneider
The National Archives of Luxembourg (ANLux) have announced the conference "David and Goliath - The accession of the Grand Duchy of Luxembourg to the German Zollverein (1842-1918)", taking place from 18-20 April 2018.
The period 1842-1918 was an important chapter in the history of Luxembourg. In 1842, the Grand Duchy joined the German Zollverein. In 1918, it left this customs union, which proved to be very beneficial in terms of national economic development. For the ANLux, the upcoming anniversaries of these two events are an opportunity to take a closer look at this historically important topic to better understand the country's past.
Therefore, in addition to their exhibition "Halt! Customs - Lëtzebuerg am Däitschen Zollveräin ", the ANLux have invited all interested parties to participate in the conference "David and Goliath", organised in partnership with the Chamber of Commerce and the Dräi Eechelen Museum.
The opening session will take place on 18 April at 18:30 at the Chamber of Commerce in Kirchberg in the presence of State Secretary for Culture Guy Arendt. Michel Wurth, President of the Chamber of Commerce, will deliver the opening speech of the conference, during which he will mainly study the impact of Zollverein membership on the evolution of the industry, and through this, the development of the Luxembourg economy in general.
The conference will then take place on 19 and 20 April at the Dräi Eechelen Museum, where 15 national and foreign speakers will present the results of their research on the German customs union. More specifically, two German historians will analyse the current state of German research on the Zollverein and the role of the Luxembourg administration in this customs system. There will also be two contributions on Liechtenstein's customs partners and on the customs history of Alsace-Lorraine after annexation to the German Reich.
In addition, national speakers will deal with very diverse themes, showing that the three-quarters of the Grand Duchy's Zollverein membership has not only had an impact on the country's economic and fiscal realities. Indeed, social, cultural and societal topics will also be discussed, such as the way in which the German customs union has impacted the development of collective labour agreements in Luxembourg.
Participation in both the opening session of the conference and the conference itself is free. Advance registration, however, is recommended with the National Archives via email: relations.publiques@an.etat.lu or tel.: (+352) 247-86692. Registration is mandatory for those who wish to participate in lunches.