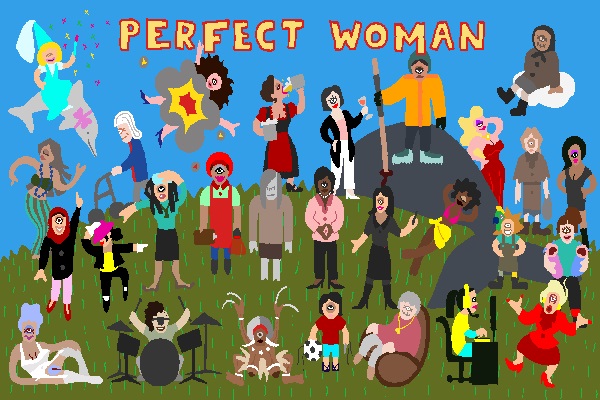 Perfect Woman; Credit: © Peter Lu & Lea Schönfelder, 2014
The Institut Pierre Werner (IPW) has announced the opening of its "Games & Politics", which will be shown from 20 April to 21 May 2018 (11:00-18:00) at the Neumünster Abbey.
The IPW will present an exhibition on the relevance of video games as a form of political and social media in the era of globalisation. The exhibition was designed in cooperation with the Goethe-Institut and the Zentrum für Kunst und Medien Karlsruhe.
Gone are the times when video games were considered responsible for the stupidity of society, the stupidity of youth or the decline of the West. The video game is not only popular with players, but also enjoys educational recognition. The role they can play in political education is particularly emphasised.
In this regard, the interactive exhibition Games & Politics presents video games as social declarations and works of art, thus examining how video games can develop political potential.
In order to show this dimension, the exhibition gives concrete examples illustrating the diversity of political universes. Some games deal with precarious working conditions, others with gender-related difficulties, of the police state or the reception of refugees. This presentation of social facts and problems, as well as the opportunity to make political decisions and defend opinions in the game, is a contradiction within the leisure industry.
Visitors will discover a panel of games from the last twelve years, in which they can, for example, identify with a customs officer, a governess, a street vendor or a survivor of the war. A total of 16 games can be tested.
The vernissage with an introductory lecture (English/German) from the curator of the exhibition, Stephan Schwingeler, will take place on 19 April 2018 at 18:30.
Stephan Schwingeler, born in 1979 in Dortmund, is an art historian and media specialist. Since 2018 he has been Professor of Media Science at the University of Applied Sciences and Arts Hildesheim, Holzminden and Göttingen. His areas of research include video games and he is one of the most important international pioneers of game studies, where they are considered a relevant art form.