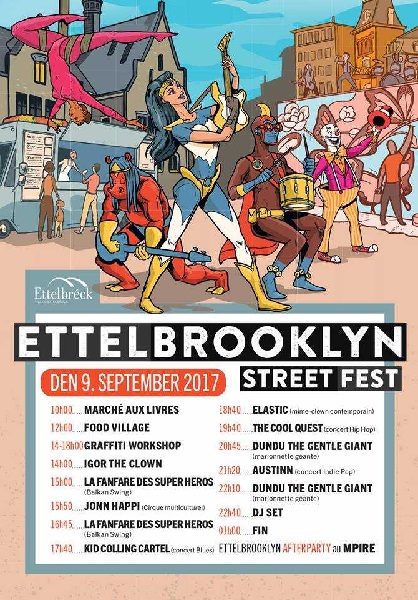 The Centre for Plural Arts Ettelbruck (CAPE) has organised a series of events this month in collaboration with Ettelbruck City Tourist Office and the City of Ettelbruck.
From the first ever Ettelbrooklyn street fest to a local exhibition, Ettelbruck is set for a busy month this September.
First on the agenda will be the first edition of the new Ettelbrooklyn Street Fest taking place in the centre of Ettelbruck on 9 September 2017 from 10:00. This free festival of street arts with its music programme, entertainment, food trucks and bars will bring Ettelbruck to life next Saturday.
The opening of the 2017-2018 season will take place at the CAPE on Saturday 23 September 2017 at 20:00 with the concert of the Military Grand-Ducale & Murphy's Law. Tickets cost €26, €13 for young people, or €1.50 with a Kulturpass.
This will be followed on 26 September by a film conference of 8ethnies - Travel To The Heart Of The World by Jean Queyrat And Jérôme Ségur at 20:00. This opens the CAPE's "Exploration of the World" cycle. Full price is €16, €8 for young people, or €1.50 with a Kulturpass.
Finally, the September programme will come to a close on 27 September 2017 at 19:00 with an exhibition by Luxembourg artist Max Mertens entitled Venice: Edifice of Thought. The exhibition will take place until 18 October 2017 and is open every Monday-Saturday from 14:00-20:00. Entry is free.