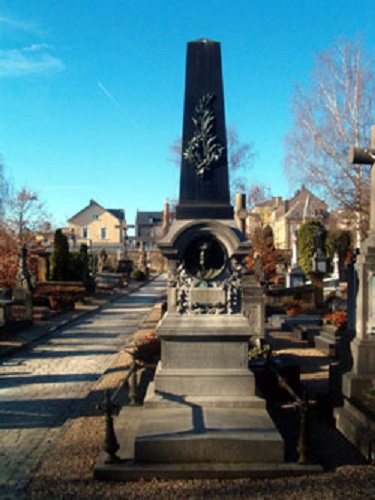 Tombe N.S. Pierret; Credit: Tom Philippart
An urban history tour of the Notre Dame cemetery in Luxembourg-ville will be held on 12 November 2017 from 14:30 to 16:00.
The guided tour, organised by the MNHA/Musée 3 Eechelen and the Luxembourg Urban History Company, will look at the relationship with death at the turn of the nineteenth and early twentieth centuries.
The guided walk through the burial grounds will recall the different meanings of funerary monuments, showing antagonism between industrial funerary art and artisanal funerary art and questioning the safeguarding of funeral heritage.
The point of departure for this tour will be at the cemetery itself and will end at Allée des Résistants et Déportés.
The tour will be given in French by Dr. Robert L. Philippart.
No registration is required but a participation fee of €5 per person, excluding students, will be required on the day.
Further information is available via tel.: 621 215 424 or 44 49 29, email: info@histoireurbaine.eu or online at www.histoireurbaine.eu or www.m3e.lu.