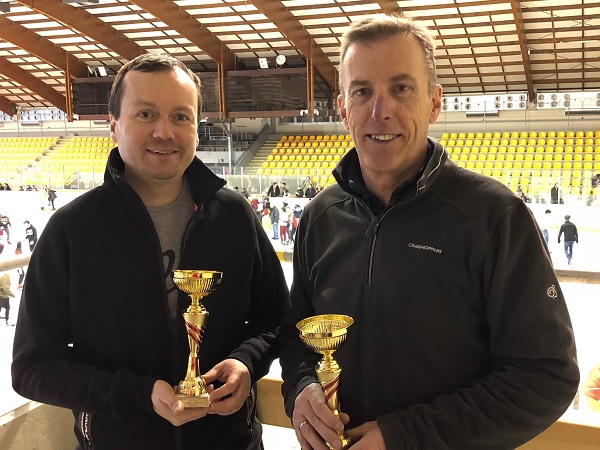 (L-R): Claude Schweitzer, Gregor Graham; National Doubles Champions 2018;
In the finals of the National Doubles championship in curling played this weekend at Kockelscheuer, three teams competed in a double round,robin competition, with Gregor Graham and Claude Schweitzer remaining undefeated after their four matches to lift the trophy.
Results
Graham/Schweitzer vs. Husi/Benoy: 8-4 and 7-4
Graham/Schweitzer vs. Wauters/Etienne: 13-1 and 7-4
The runners-up place went to Wauters/Etienne, who defeated Husi/Benoy 7-2 and 12-4.
The matches played were all closer than the results show and the curling played was at a high European level. All participants were happy about the ice-conditions and especially the ambiance between the opponents.
The next possibility to see the best Luxembourg curlers in a tournament at Kockelscheuer will be on 11 & 12 March, when the Curling Club Luxembourg organises its International Doubles tournament.
For all those interested in wanting to try curling, please see the information on Monday- and Wednesday-evening possibilities on www.curling.lu​