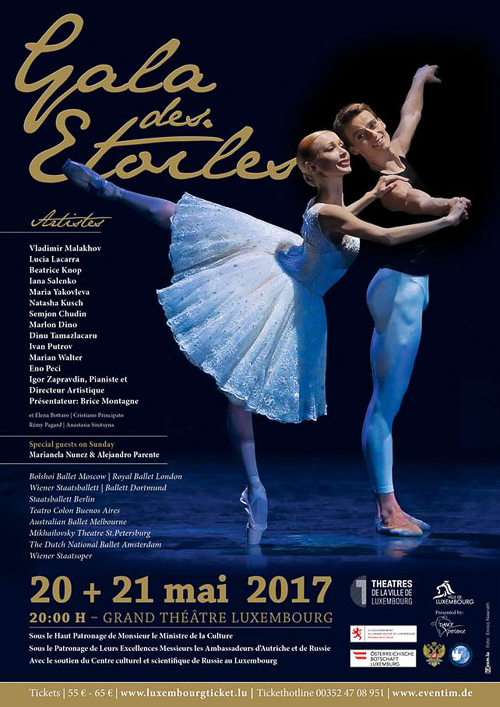 The Gala des Etoiles is back for its fifth twirl at the Grande Théâtre Luxembourg on 20 and 21 May with a gathering of dancers from some of the world's most prestigious ballet companies, including the Bolshoi Theatre Moscow, The Royal Ballet London, Staatsballett Berlin, and Australian Ballet Melbourne, and stars of barre and stage such as Vladimir Malakhov, Lucia Lacarra, Beatrice Knop, Iana Salenko, Maria Yakovleva, and special guests Marianela Nunez and Alejandro Parente, performing to some of the world's best -known choreographers and musical arrangements.
On the programme are pas de deux and solos from classical and neo-classical choreographers Georges Balanchine, Mikhail Fokine, Herman Lovenskiold, Jean Coralli, Jules Perrot, Lev Ivanov, August Bournonville, Pierre Lacotte, Ben van Cauwenbergh, Raimondo Rebeck, Hans van Manen, Frederick Ashtonnicek and others. The musical accompaniment will be provided by Maestro Igor Zapravdin, pianist at the Vienna State Opera for 25 years.
The Gala des Etoiles is a non-commercial event organised by Ballet enthusiasts, whose aim is to promote classical dance at the highest level and attract an international audience to Luxembourg.
It also aims to provide support and encouragement to young Luxembourg artists to give them the experience and confidence to dance alongside some of the world's greats.
The public is also invited to pull back the curtains on the mysterious world of ballet by attending a professional dance workshop run by Vladimir Malakhov — formerly of the Bolshoi, American Ballet Theatre and Berlin State Ballet. The class will be at the Grand Theatre of Luxembourg at 17:00 on 21 May, and tickets for this unique opportunity are just €10.
Young dancers are also invited to participate in a series of workshops administered by Sergey Ignatiev, on Friday 19 May and Saturday 20 May. Entrance to the class is €40 for two days.
Friday 19 May: 17:00 to 18:15 for students between eight and twelve years of age, and 18:30 to 20:00 for students 13 years and over.
Saturday 20 May: 10:00 to 11:15 for students between eight and twelve years of age, and 11:30 to 13:00 for students 13 years and over.
Tickets for the main shows on 20 and 21 May are €65 (category I), or €55 (Category II).
Places are limited for the dance workshops of Vladimir Malakhov and Sergey Ingatiev, and registration in advance is recommended.
Bookings can be made by telephone: 4708 951, or online: luxembourgticket.lu