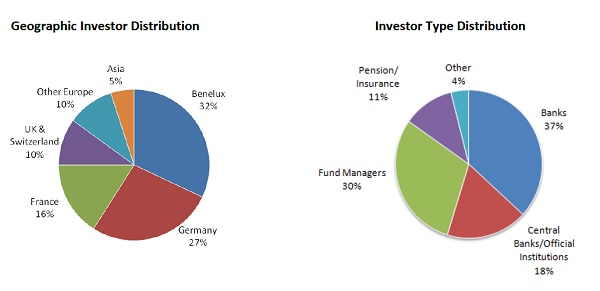 The Grand Duchy of Luxembourg has just launched a €2 billion bond issue; it is the first conventional bond issue issued since the beginning of the 2013-2018 legislative period - it lasts 10 years and expires in February 2027.
Markets have responded very positively to the offer, so that banks that have acted as leaders have seen a large surplus in demand (oversubscription) from the announcement to market professionals from Tuesday afternoon 24 January 2017, testifying to the confidence of investors in the Luxembourg economy and in the sound management of the public finances of the country.
The order book was opened on Wednesday morning, 25 January 2017. Given that demand has grown to €7.25 billion, a demand exceeding 3.5 times the offer proposed to investors, Could be quickly closed. BCEE, BGL BNP Paribas, BIL, Bank of China, Deutsche Bank and Societe Generale CIB contributed to the operation as joint lead managers.
Pierre Gramegna, Minister of Finance, commented: "I am pleased with the success of this operation, which is part of a responsible management of the State's liquidity. In line with the announcements made in the context of discussions on the 2017 budget, this operation has raised funds to maintain a high level of investment, while repaying maturing loans in the coming months. I am pleased to note that we have succeeded in placing the loan at an attractive financing cost to the government, both in terms of market conditions and the long-term evolution of interest rates."
Because of its low indebtedness and its AAA rating, Luxembourg is financed at an attractive rate, more favourable than that enjoyed by France or Belgium, for example. Despite its almost four times lower debt as a percentage of GDP compared to Germany, Luxembourg generally pays a higher interest rate than this one. This difference can be explained by the infrequent issuance of Luxembourg borrowings and the resulting illiquidity premium. However, it has been reduced to a historical minimum on this issue. Thus, the coupon of the loan is 0.625% (fixed) and the rate of return is 0.74% per annum, which are the lowest interest rates ever borrowed by the Luxembourg State for a loan bond.
At the end of this operation, Luxembourg remains among the Member States of the European Union with the lowest debt ratios. Between 2013 and 2016, consolidated government debt fell from 23.5% to 20.5% of GDP. By the end of 2017, it is projected to reach 22.4% of GDP, well below the 30% limit in the government programme.
Pierre Gramegna explained: "This loan of €2 billion should be considered in relation to the ambitious policy of the government with regard to investments which amount to more than €8 billion over the 2014-2017 period. In other words, more than 3/4 of public investment will have been financed by current revenues, and only 1/4 through borrowing. This is a sign of sound public finances and responsible fiscal policy."