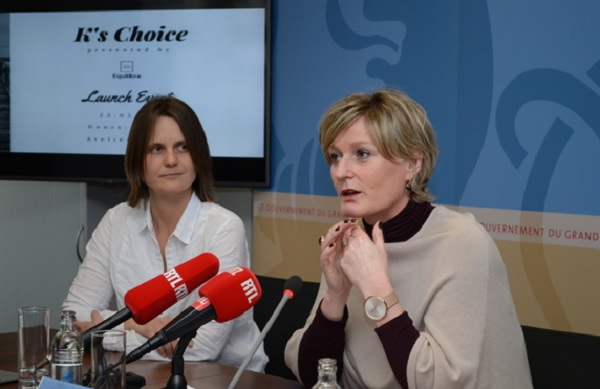 On 9 February 2017, Luxembourg's Secretary of State for Economic Affairs, Francine Closener presented the new platform "Equilibre" which focuses on the diversity of men and women as a lever for economic development.
Yesterday, minister Closener unveiled the new platform for male-female diversity in Luxembourg's economic development. "Equilibre" provides a link between various existing initiatives and associations promoting an attractive environment for female talent. It does so by centralising the data and other relevant information, and then putting it into perspective to obtain quantified and tangible arguments which are then made available to the public.
As part of the implementation of the "Equilibre" platform, the Ministry of the Economy has initiated a specific study on women's entrepreneurship in Luxembourg and on the role of women in companies.
The study makes it possible to highlight four main findings, on which the missions of the new connection platform are based. These findings include the fact that Luxembourg offers a comprehensive support network of organisations for female entrepreneurship. They also highlight the difficulty of balancing of family and work life for both men and women, as well as how women entrepreneurs seem to favour less risky commitments and thus use less external private funds than their male counterparts. Finally, the study found that, in general, women-run enterprises take less risk and are therefore less likely to fall into bankruptcy, but in return their economic growth is less developed.
At the press conference, Francine Closener stated that: "The increased presence of women at the head of companies and decision-making bodies contributes to the prosperity of these companies, and so favours economic development. The "Equilibre" connection platform provides the associations and organizations that exist to promote women's entrepreneurship with quantified data and tangible arguments in order to better advocate their cause among the various bodies. "
The official launch of the new platform "Equilibre" will take place on Thursday 23 February 2017, with a K's Choice concert at the Atelier.
Photo by MECO. From left to right: Larissa Best, entrepreneur and Business Angel; Francine Closener, Secretary of State for Economic Affairs