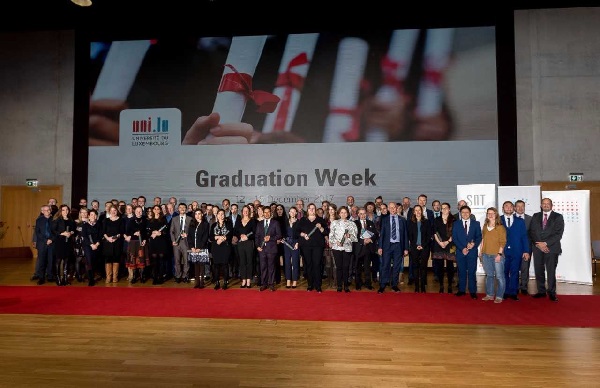 Credit: University of Luxembourg
Starting on Tuesday 12 December 2017, the University of Luxembourg is celebrating its "Graduation Week".
In a series of events that started earlier this week, Bachelor, Master, and doctoral students have received their diplomas. Overall, 562 Bachelor and 387 Master students as well as 138 doctoral students graduated this year at the University of Luxembourg.
The Graduation Week was kicked off on Tuesday evening with the "Doctoral Graduation Ceremony" during which students were handed their PhD certificates. Dr. Matt Taylor of the European Space Agency and Project Scientist for the Rosetta Mission, gave a keynote speech entitled 'The ESA Rosetta mission to a comet: what, where, how and why'.
At the Faculty of Science, Technology and Communication (FSTC), 141 graduates received their diplomas on Wednesday 13 December 2017. The Faculty conferred degrees to 86 students from four different Bachelor programmes in Engineering, Science and Engineering, Informatics and Life Sciences, as well as to 35 Master students. Moreover, six Bachelor and eight Master students were awarded special prizes for their outstanding academic results.
On 14 December, the Faculty of Law, Economics and Finance will confer degrees to a total of 182 graduates from its Master programmes. The best students from the Master in Economics and Finance, and the Master en Droit et Contentieux de l'Union Européenne will be awarded special prizes thanks to the support of the Economist Club Luxembourg, and Josef Azizi and Arjen Meij, respectively. In addition to its Master graduates, the Faculty congratulates 252 Bachelor graduates who will receive their diploma in law, applied management or economics and management.
Finally, the graduation ceremonies of the Faculty of Language and Literature, Humanities, Arts and Education are set to take place on 15 December, when 224 students will be graduating from four Bachelor programmes in addition to 170 students graduating from 15 Master and lifelong learning programmes in Humanities, Social Sciences, Psychology, and Teaching and Education. Fanny Thill will receive the "European Charlemagne Youth Prize" for Best Master thesis in European Contemporary History, whilst the newly established "Translating Cultures Prize" will go to Corine Klip from the Master in Learning and Communication in Multilingual and Multicultural contexts.
The "Prix Germain Dondelinger" awarded by the Amis de l'Université du Luxembourg to the best students from each Faculty will this year be given to Steve Dias Da Cruz (Master in Mathematics), Olga Hofmann-Flavin (Master in Accounting and Audit) and Iris Türk (Master in European Governance).