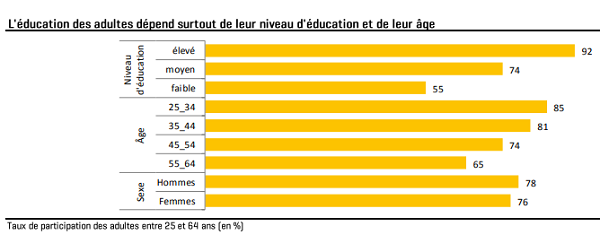 Today on Wednesday 11 July 2018, Statec has released their latest statistics that 77% of adults in Luxembourg are partaking in adult education or training.
Those with tertiary-level education are the most likely to continue any form of education or training compared to those with a medium or low-level of overall education.
There is not a significant difference between men and women although their participation does decrease with age.
Other factors that impact these findings for adults is their professional status and for those that are employed, the type of job and sector that they work in as well as the size of the company that employs them.
45% of adults took part in informal educational activities last year. This includes group classes (44%), workshops and seminars (28%), work place training (23%) and private classes (5%). 53% of adults currently employed took part as opposed to 39% of those looking for work and 45% of students.
These figures comes from STATEC's survey of adult education conducted in Luxembourg between 2016 and 2017. During this survey over 4000 residents aged between 25 and 64 years of age were questioned on their educational habits over the past 12 months. The same survey has been undertaken in all the European Member States. The educational activities are classified into three main groups including formal education, informal education and informal training.