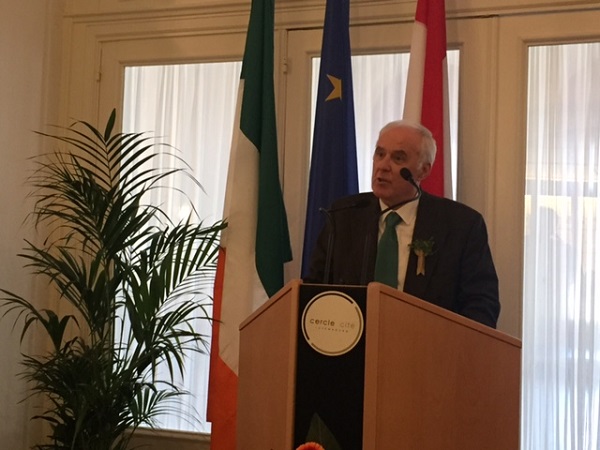 The 2017 St Patrick's celebrations in the Grand Duchy started off on Thursday lunchtime with a formal reception at the Cercle Cité hosted by the Ambassador of Ireland to Luxembourg, Peadar Carpenter.
Around 300 people attended the reception, including former Luxembourg Prime Minister, Jacques Santer, a number of ambassadors including the Dutch Ambassador Peter Kok and the British Ambassador John Marshall, a number of parliamentarians and representatives of the Irish and local business and cultural communities.
After the playing of both the Irish and Luxembourgish national anthems, Ambassador Carpenter addressed the attendees. He Looked back over the past twelve months, including the 1916 Centenary Commemorations, Luxembourg hosting the European Gaelic Championship finals, and also Ireland defeating New Zealand in rugby!
On the econocic front, he said that Ireland reported the highest rate of growth in the EU and that unemployment is heading to drop under 6% this year.
He mentioned Brexit, and is interested to see what will happen concerning Northern Ireland in the upcoming negotiations. He referenced a number of examples of how the criss-birder economies currently work very well, including all Guinness and Baileys products being transported north to be repackaged before being exported, with the volume of Guinness equivalent to 10,000 trucks annually.
Amb Carpenter also referred to there being 6 million people in Britain claiming Irish descent. He stated that "we intend to stay Europeans and share European values" and added that Brexit will involve the most complex political negotiations seen in decades.
He concluded by wishing everyone a happy St Patrick's Day; the event continued with a reception during which Irish savoury and sweet finger food was served.