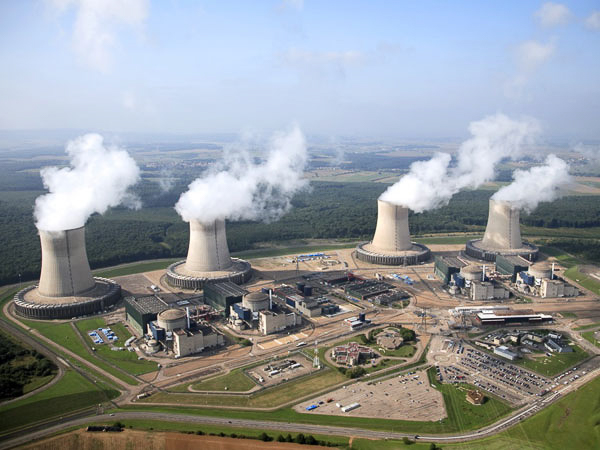 Cattenom nuclear power station;
The Franco-Luxembourg Joint Commission for Nuclear Safety held its sixteenth meeting on 1 February 2018 at the headquarters of the Nuclear Safety Authority (ASN) in Montrouge, France.
On the Luxembourg side, the Commission consisted of representatives of the Ministry of Foreign and European Affairs, the Radiation Protection Division (DRP) of the Ministry of Health and, on the French side, representatives of ASN and the Ministry of Europe and Foreign Affairs, the Moselle prefecture, the Defense and Security Zone East, in the presence of the energy operator EDF.
The exchanges between the two delegations concerned the recent developments in the two countries in the fields of nuclear safety and radiation protection, the assessment of the year 2017 of the Cattenom NPP in terms of safety, radiation protection and safety, environmental protection and the modifications planned for 2018, as well as the feedback from the Cattenom crisis exercise organised in October 2017.
Both parties have confirmed their willingness to continue their exchanges on the various aspects of Franco-Luxembourg cooperation in this area.
Cattenom Nuclear Power Plant
The main events and incidents that occurred during the past year were mentioned. The representatives of ASN and EDF notably made a point on the following news relating to the Cattenom nuclear power plant:
- The 2017 report on nuclear safety, radiation protection, occupational safety and environmental protection;
- The various maintenance actions carried out in 2017 as well as those planned for 2018;
- Level 2 incidents
- The safety of spent fuel storage pools.
In addition, EDF presented the major events that occurred in 2017, as well as the issues related to the 3rd 10-year visit to reactor 2.
On the sidelines of this meeting, discussions were organised with the French competent authority on the safety of the Cattenom plant and on the measures implemented to strengthen it.
Laboratory of Bure and Cigéo project of deep storage of radioactive waste
The two parties discussed the next steps of the project and the authorisation procedure, including the ASN's request for authorisation and the public inquiry.
Emergency management
The two delegations gave an update on the bilateral agreement on alerting and exchanging information in the event of a radiological emergency.
In addition, the lessons learned from the crisis exercise of the Cattenom site of 17 October 2017, to which the Luxembourg competent authorities were associated, were discussed. Both delegations welcomed the coordination effort that has been put in place during the preparation and conduct of the exercise, whether at the local or national level.
The next meeting of the Commission is scheduled for Luxembourg in February 2019.​