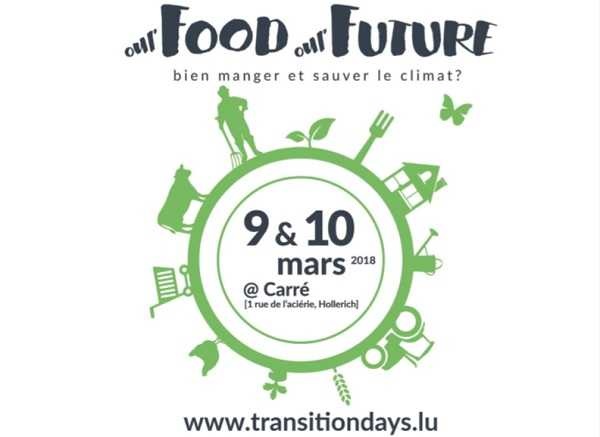 The 2018 edition of Luxembourg's Transition Days on the future of food will be held on Friday 9 and Saturday 10 March 2018 at Carré Hollerich (former Carré Rotondes).
The new Transition Days 2018 will focus on the future of food in a world faced with the challenge of climate change. They aim to reflect on how humans can eat well whilst respecting the limit of the planet's resources, what this means for Luxembourg and how to make this transition.
This forum on food transition invites consumers, farmers, researchers, entrepreneurs, associations and the media to think about 'How to produce and consume in a way that respects the limits of the planet'.
Throughout the weekend of 9-10 March, the public can participate in interactive debates and co-creative workshops, as well as discover innovative projects, try different dishes and gain insight on positive change around food.
The event has been organised by the Centre for Ecological Learning Luxembourg (CELL), with the support of the Ministry of Sustainable Development and Infrastructure - Department of the Environment and the OEuvre Nationale de Secours Grande-Duchesse Charlottte.
Programme:
Friday 9 March 2018
9:00-13:30: FOOD WASTE ZERO: the challenge
14:00-18:30: Keynotes and workshops on 4 topics: food sovereignty, edible cities, the future of food and the food footprint
20:00: Participatory Conference in Fishbowl format "Our Food Our Future: What Food Transition do we need?" with Arnaud Daguin, Benedikt Härlin, Evelyne Stoll, Frank Adams, Jean-Michel Herbillon, Laurent Lebot, Bedouet Linda, Marie-Laure Mir, Pol Faber and René Mathieu, chef at the Château de Bourglinster. Moderated by Bernward Geier.
22:00: Music & drinks
Saturday 10 March 2018
11:00-20:00: Engaged library
10:30-12:40: Forum of emerging projects
11:00-14:00: Anti-waste brunch
14:00.19:00: Workshops & good practices
17:00-19:00: "Eating well and saving the climate, is it really possible?"- interactive conference on the future of our diet with Anita Idel and Stefan Kreutzberger
19:00-24:00: Disco Soup