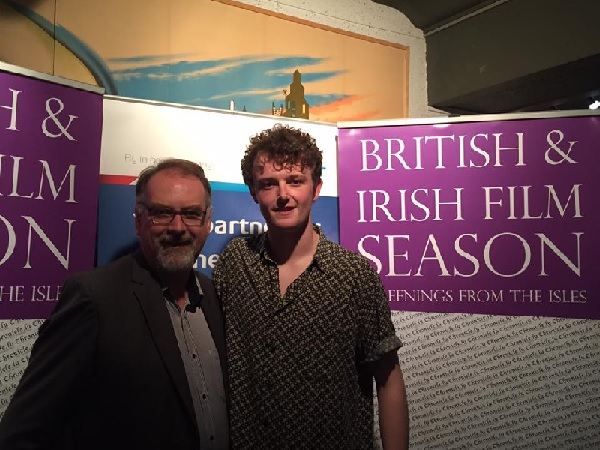 The screening of the hit 2016 Irish comedy "The Young Offenders" at the Cinematheque on Sunday marked the end of G-Media sarl's successful St Patrick's Week Films.
The Luxembourg premiere of Peter Foott's Galway Film Fleadh-award winning Irish comedy "The Young Offenders", the final film in the series of Irish comedy screenings as part of St Patrick's Week Films, attracted a full house at the Cinematheque on 19 March 2017.
The film, introduced on this occasion by one of the two main actors, Chris Walley, tells the story of two lovable but trouble-making schoolboys from Cork, Conor (Alex Murphy) and Jock (Walley), who set out to find a missing bale of cocaine washed ashore worth €7 million in an attempt to change their lives forever. The event is based on the true story of Ireland's largest cocaine seizure in 2007.
Throughout the screening, the room was filled with the audience's laughter as the two main characters got into a series of mishaps along their bicycle journey to find the missing cocaine, from being chased by a Garda officer obsessed with catching bicycle thieves to being attacked by a nail-gun wielding drug dealer.
The screening of the film, which premiered in 2016 at the Galway Film Fleadh and has since been nominated for and won awards in major cities like L.A. and London, was followed by a Q&A session with Chris Walley who took time off from his busy schedule of his second year at the RADA (Royal Academy of Dramatic Art) in London for the event.
Chris Walley, who has been acting since the age of six or seven, discussed the film's success despite its shoestring budget of only around €60,000, as well as the new opportunities it has brought for himself and his co-star and friend Alex Murphy. The young actor from Cork commented: "It's opened a lot of doors for us, but I'm just taking everything as it comes. It's just put us in a great position."
The 21-year-old drama student began filming for "The Young Offenders", his first film, in the summer before starting his studies at RADA in 2015. His next projects include a live Shakespeare performance in London, planned for late June or early July this year as well as a few other theatre pieces.
With regards to the future of the film, there has been some vague talk of a possible sequel or spin-off series, but nothing has been confirmed as of yet.
Photo of Chris Walley and organiser of the St Patrick's Week Films, Geoff Thompson