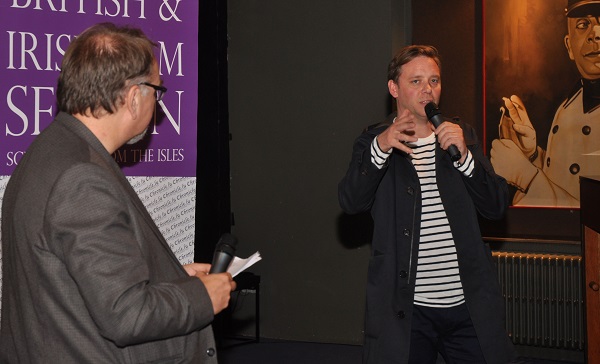 On Thursday evening, the 8th annual British & Irish Film Season (BIFS) in Luxembourg screened the European Premier of Modern Life is Rubbish at the Cinémathèque in Luxembourg-ville.
Directed by Daniel Jerome Gill, the romantic comedy is set in London where two 20-somethings meet in a record store. Part of the story is a series of flashbacks on their relationship from when they are separating, including splitting up their record collection; and part is going forward and seeing how they cope in their careers after going their separate ways - "mope or cope". He is an aspiring musician fronting a 3-piece band but who rejects modern technology and consumerism; she is a graphic designer and aspires to design an album cover but settles for working at an ad agency. A look at modern life with a terrific soundtrack.
Producer Dominic Norris attended the post-screening Q&A session and explained the origins of the film and how the project got off the ground, including getting the STG£1.5 million finance, some of which came from private financing. He talked about the challenges of obtaining permission to feature certain songs on the soundtrack and also to use specific locations for shooting.
The film is expected to go on general release in both the US and the UK, as well as Europe including the BeNeLux, from next February onwards, and then probably to a VOD service.
The BIFS has its penultimate screenings this evening (Friday), with The Beautiful Fantastic at 18:30 and White Island at 20:30, both at the Cinémathèque, before the Closing Screening on Saturday evening at 19:00 at Ciné Utopia in Luxembourg-Limpertsberg.
For full details, see www.bifilmseason.lu​