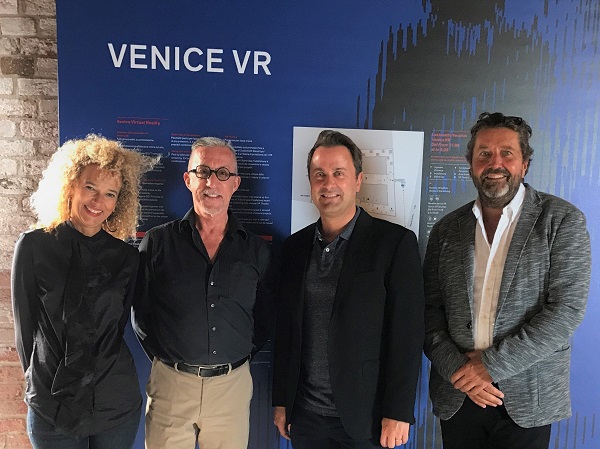 (L-R): Myriam Achard, VR consultant; Michel Reilhac, direction artistique VR Theater Mostra di Venizia; Xavier Bettel, Prime Minister, Ministre of Culture; Guy Daleiden, Director Film Fund Luxembourg; Credit: Film Fund Luxembourg
In his capacity as Minister of Media and Communications, Xavier Bettel attended the 74th Venice Film Festival durig his current visit to Venice.
The Minister and his delegation traveled to the island of Lazzaretto Vecchio to visit the VR Theater, which hosts the first official virtual reality film competition at the Mostra. Xavier Bettel was received there by Michel Reilhac and Liz Rosenthal, in charge of the Festival's VR programming.
Also on the agenda is the viewing of films and the discovery of new technological means developed for audiovisual production and communication, which are increasingly being echoed by professionals and the public in Luxembourg. "Faced with the growing interest and potential that this technological revolution has in store for us and which will change our daily lives, Luxembourg, deeply embraced by new cutting-edge technologies, must play a key role in enhancing these new content" Minister.
Xavier Bettel and his delegation were also welcomed by the Venice Film Festival officials before attending the Italian film "The Leisure Seeker" by Paolo Virzi (with Helen Mirren and Donald Sutherland) co-produced by David Grumbach of the Luxemburgish company Bac Cinema.