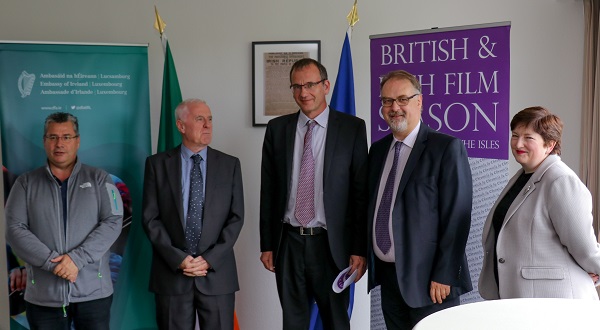 (L-R): Jesus Gonzalez, co-producer Toy Gun; Peadar Carpenter, Irish Ambassador; John Marshall, British Ambassador; Geoff Thompson, BIFS organiser; Yvonne White, British Embassy; Credit: Photo by Ali Sahib
On Wednesday afternoon, the Embassay of Ireland in Luxembourg hosted the press conference to launch the 8th annual British & Irish Film Season (BIFS) in Luxembourg which will screen 17 feature films between 20-30 September 2017, and also hold a Film Quiz.
The Ambassador of Ireland to Luxembourg, Peadar Carpenter, recalled that the film production industry in Ireland is worth around €150 million annually and has spawned a new "film tourism" niche with visitors seeking out the sets of Games of Thrones, Star Wars, etc. The British Ambassador to Luxembourg, John Marshall, siad that last year over 200 films were shot in Britain where the industry is worth circa £1.6bn annually, with a mix of blockbusters and independent films.
Both ambassadors welcomed the 8th annual edition of the BIFS initiative created by Geoff Thompson who introduced the artistic programme of 17 feature films spanning different genres and from across Britain and Ireland, and representing mainly independent cinema. The event is supported by Gold Sponsors Orange Luxembourg.
The British & Irish Film Season will have screenings across three venues, Ciné Utopia in Limpertsberg Kinepolis in Kirchberg and the Cinémathèque in Luxembourg-ville and will kick off with the screening of "Maudie" for which actress Sally Hawkins is tipped to receive an Oscar nomination, and will close with "Tommy's Honour", a period drama about the origins of golf. Two Luxembourg co-productions will be featured, "Toy Gun" by Calach Films, and "Ethel & Ernest" by Melusine Productions – both in English. All other films will be receiving their Luxembourg premiers during the 11 days of the festival. Both "Maudie" and "Kingsman 2: Secret Circle" will be avant-premiers prior to their general release in Luxembourg cinemas.
The audience will also have the privilege of meeting actors, directors and producers at a number of the events, including intimate Q&A sessions post-screenings - this resulted in a significant rise in attendance over the last few years as audiences were introduced to the stories behind the films. For cinema-enthusiast to film-making students alike, this is a rare opportunity to learn more about the world of film production and meet some of the interesting players in British and Irish cinema today.
For more detailed information on the programme, please visit www.bifilmseason.lu - the programme will be online by Monday, with online ticketing open too.
As in previous years, BIFS 2017 will include another component to the festival programme, with a Film Quiz being held on the second evening. This will be open to teams of four who will compete for exciting prizes, including 4 return tickets to LondonCity or Dublin.
This year the Awards will feature both an Audience Award with one entry winning 2 Luxair flights to Dublin / LondonCity as well as an Audience Prize, and also a Critics' Award, with the involvement of members of the Association Luxembourgeoise de la Presse Cinématographique (ALPC).
The popular Season Special Ticket will be available for purchase online, enabling festival-goers to see five films for approximately the price of three standard cinema tickets (€30), with individual tickets at €9 each. For more information on ticket pricing and purchase of tickets for individual screenings, see www.bifilmseason.lu, from where tickets for all screenings will be sold. Ticketing will also be available at the venues prior to screenings, depending on availability.
The BIFS has been wonderfully supported by the Edinburgh International Film Festival and the Galway Film Fleadh, where almost all of the films of this year's BIFS line-up were premiered. The BIFS is also grateful for the support of the Irish Film Institute and the Luxembourg Film Fund, as well as the patronage of the British Embassy and the Embassy of Ireland in Luxembourg.
The British & Irish Film Season also enjoys support from its Silver Sponsors Aberdeen Standard, NNIP, Sunflower Montessori, Luxair and DHL, with Bronze Sponsors: Banque Havilland, SES, the Kerry Group, Fortrust Global, Lucky 14 Irish Pub, the Goeres Group, Bernard Massard, Kathy's Cupcakery, and its media partners: AraCityRadio, Chronicle.lu, Delano and City Savvy.
PROGRAMME
• Wed 20 Sep @ 19:00 @ Ciné Utopia #2: Opening Speeches & MAUDIE, by Aisling Walsh
• Thu 21 Sep @ 18:30 @ Cinémathèque: Film Quiz
• Thu 21 Sep @ 20:30 @ Cinémathèque: WRITING HOME, by Nagham Abboud, Alekson L. Dall'Armellina and Miriam Velasco
• Fri 22 Sep @ 18:30 @ Cinémathèque: ACCESS ALL AREAS by Bryn Higgins
• Fri 22 Sep @ 20:30 @ Cinémathèque: THE SECRET SCRIPTURE, by Jim Sheridan
• Sat 23 Sep @ 19:00 @ Ciné Utopia #2: KINGSMAN 2: THE GOLDEN CIRCLE, by Matthew Vaughn
• Sat 23 Sep @ 21:30 @ Ciné Utopia #3: HANDSOME DEVIL, by John Butler
• Sun 24 Sep @ 17:00 @ Ciné Utopia #2: ETHEL & ERNEST, by Roger Mainwood, based on the graphic novels by Raymond Briggs
• Sun 24 Sep @ 19:00 @ Ciné Utopia #3: AITHRI / PENANCE, by Tom Collins
• Mon 25 Sep @ 19:00 @ Kinepolis Kirchberg #4: THE FARTHEST, by Emer Reynolds
• Tue 26 Sep @ 18:30 @ Ciné Utopia #2: PILGRIMAGE, by Brendan Muldowney
• Tue 26 Sep @ 18:30 @ Ciné Utopia #3: ALL THE WILD HORSES, by Ivo Marloh
• Wed 27 Sep @ 18:30 @ Kinepolis Kirchberg #3: TOY GUN, by Marco Serafini
• Wed 27 Sep @ 21:30 @ Kinepolis Kirchberg #5: THE MARKER, by Justin Edgar
• Thu 28 Sep @ 20:30 @ Cinémathèque: MODERN LIFE IS RUBBISH, by Daniel Jerome Gill
• Fri 29 Sep @ 18:30 @ Cinémathèque: THIS BEAUTIFUL FANTASTIC, by Simon Aboud
• Fri 29 Sep @ 20:30 @ Cinémathèque: WHITE ISLAND, by Benjamin Turner
• Sat 30 Sep @ 19:00 @ Ciné Utopia #2: Awards & TOMMY'S HONOUR, by Jason Connery
SPECIAL GUESTS
• Access All Areas: Oliver Veysey, writer – to be confirmed
• Aithrí / Penance: Peter Coonan, actor; Edwina Forkin, producer – to be confirmed
• All the Wild Horses: Ivo Marloh, director/producer
• Ethel & Ernest: Stephan Roelants, co-producer; Nicolas Debray, animation supervisor
• Modern Life is Rubbish: Daniel Jerome Gill , director – to be confirmed
• The Farthest: Emer Reynolds, director
• The Marker: Justin Edgar, director (confirmed); John Hannah, actor – to be confirmed
• Toy Gun: Jesus Gonzalez, producer; plus other cast & crew (confirmed); John Hannah – to be confirmed
• Writing Home: Tony Kelly, actor
The British & Irish Film Season (BIFS) is organised by the Irish Club of Luxembourg, in conjunction with G-Media sarl.
See www.bifilmseason.lu for details and ticketing (from Monday 11 September).