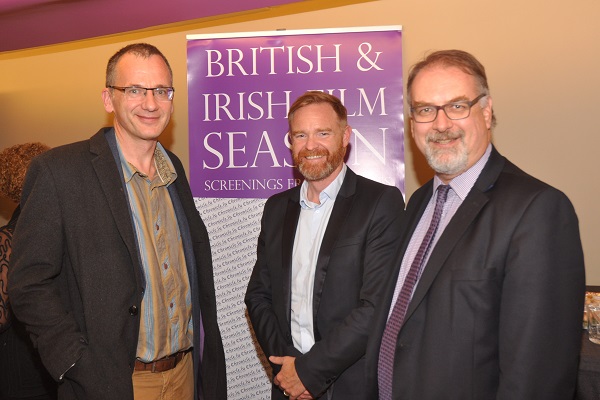 (L-R): British Amasador, John Marshall; Robert Williams, NNIP; Geoff Thompson, BIFS Organiser; Credit: Dorte Storup
On Saturday evening, the curtain came down on the 8th annual British & Irish Film Season (BIFS) in Luxembourg, after 16 screenings over 11 days.
The British Ambassador to Luxembourg, John Marshall, spoke about the British film industry, from blockbusters to independent productions, and said that this festival is a great way to see mainly independent productions that would not normally be screened in commercial cinemas in Luxembourg. He also paid special attention to the strong British and Irish links, within both the film industry as well as through this festival.
Festival organiser Geoff Thompson recalled the events of the last 11 days, including the Film Quiz as well as the screenings themselves, and thanked the Special Guests (actors, directors, producers and script-writers) that had attended the festival and participated in post-screening Q&A sessions and networking opportunities afterwards, for eight of the film screened.
He thanked the British and Irish embassies and ambassadors for their support, as well as the Edinburgh International Film Festival, the Galway Film Fleadh, the Irish Film Institute and the Film Fund Luxembourg. He acknowledged the great support, help, dedication and pro-activity of the BIFS volunteers, as well as the Gold, Silver and Bronze sponsors and also the media partners, all of which combined to help make this event a great success.
Over 1,100 people attended the screenings over the 11 days. This year, Jim Sheridan's The Secret Scripture won the Audience Award, narrowly beating Maudie, The Farthest, All the Wild Horses and This Beautiful Fantastic as the most popular film as voted by the audience. Aoife Power won the Audience Prize, two return Luxair tickets to her choice of LondonCity or Dublin.
The Closing Screening was Tommy's Honour - a captivating period drama about the relationship between father and son; Jason Connery's enthralling film is set against the fascinating backdrop of the early days of professional golf, starting off at St Andrew's in Scotland where Tom Morris was greenkeeper in times when gentry bet on the outcome of matches.
For full details, see www.bifilmseason.lu