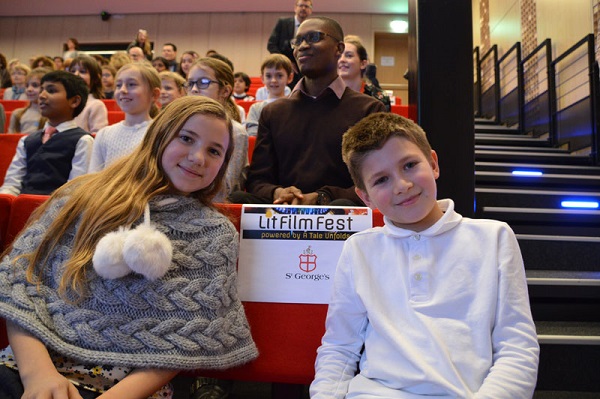 On Wednesday 24 January 2018, St George's International School's Primary section hosted its very first Literacy Film Festival entirely filmed, edited and produced by Primary students.
The Literacy Film Festival powered by 'A Tale Unfolds' in cooperation with 'Litfilmfest' is a new initiative to improve literacy through filmmaking. Students and VIP guests dressed to impress as they waltzed down the red carpet to watch the films screened for the first time.
The event was opened by the School's patron and British Ambassador, H.E. John Marshall, who was pleased to see that the school is encouraging creativity particularly on behalf of political, social and environmental causes.
"Some of the films, like most films, are for pure entertainment, and that's fantastic - we need a lot of entertainment in our lives! Some films have addressed social issues and the communication of these issues is very important and absolutely right! So well done and congratulations to all the students; whether you have been writing or creating the films, to the teachers for helping the students through this process and to the school for having such an excellent idea!"
The films produced by students aged 6 to 10 years old were based upon different themes, including heathy eating programmes, social and environmental issues, politics and light-hearted film trailers, all of which had the support from organisations such as the Houses of Parliament, YouTube Kids, Change.org and BBC Good Food. It was impressive to see so many students demonstrate a passion for important contemporary issues and the drive to make a difference.
One such example of this would be the students aged 10-11 who set up campaigns against the overuse of plastic. The students are urging people to sign their petitions encouraging the Government to provide incentives to encourage businesses to switch to organic or compostable packaging for takeaway food and drink. To learn more or to sign the petitions please visit: http://tiny.cc/banthebags and http://tiny.cc/takeawayplastic
The Literacy Film Festival concluded with a short inspirational video message from the famous film director and producer, Emmanuel Itier. He encourages students to keep working hard and to let their imaginations flow - "Congratulations to the kids at St George's – remember it's all about the power of imagination - directing and making film is all about expressing what you deeply have in your mind and let your imagination flow – and work hard! Directing movies is a lot of work and a lot of hours, so you need to be passionate and hardworking."