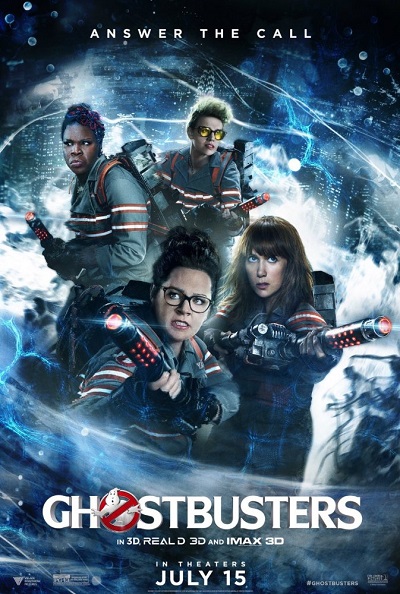 Directed by Paul Feig (The Office; Spy; Bridesmaids; The Heat) and starring Kristen Wiig (The Martian; Bridesmaids; Zoolander 2; The Secret Life of Walter Mitty), Melissa McCarthy (Bridesmaids; Spy; The Heat; Charlie's Angels), Kate McKinnon (Finding Dory; The Angry Birds Movie), Leslie Jones (Trainwreck; House Arrest) and Chris Hemsworth (Thor; Rush; Snow White and the Huntsman; The Cabin in the Woods).
Action comedy drama, 116 mins, 12+, in English
A stand-alone film with no link to the original from 1984 starring Bill Murray, Dan Aykroyd, Harold Ramis, Ernie Hudson and Sigourney Weaver, and its 1989 sequel. However, the cameo characters given to Murray, Aykroyd, Hudson and Weaver make this a thoroughly enjoyable nostalgic throw-back to the 1980s for those who saw the original two films when they were originally released. The original wise-cracking ghost hunters and their uncovering a gateway to another dimension have been replaced by an all-female crew, plus Chris Hemsworth as the eye-candy secretary for the scientific ladies.
The storyline features Erin Gilbert (Kristen Wiig) who is about to be given tenure at a respectable college of learning in Manhattan when she discovers a book she co-authored a number of years previously is still in circulation and fears its discovery will ruin her chances of career progression. She appeals to her co-author and childhood friend, Abby Yates (Melissa McCarthy), who is now working with Jillian Holtzmann (Kate McKinnon), a nuclear engineer, at a run-down college.
Around this time, paranormal activities are detected in a period house and the three start to investigate. Also, subway worker Patty Tolan (Leslie Jones) witnesses a ghostly apparitiion herself and ends up joining the others and borrows a vehicle from her father. They get a run-down premises above a Chinese takeaway, and start their business. Before long, the Mayor's office starts showing an interest but tries to assure the public that there us no current threat to the city, debunking the Ghostbusters' work in the process.
Then all hell breaks loose and the four work out where the dander is going to manifest itself and face up to their nemesis.
For a young audience new to the Ghostbusters comedy escapades, the 3D film is based on the same formula of the original, down to a wise-cracking foursome, suits, vehicle and artillery. From Erin's academic and learned character, to Abby's laisse-faire attitude and Jillian's wacky personality and technical know-how, and Patty's pragmatic and gung-ho attitude, the team gels and works off each other to great effect. While not all one-liners and jokes work, the majority do, and to great effect.
Well worth a view!