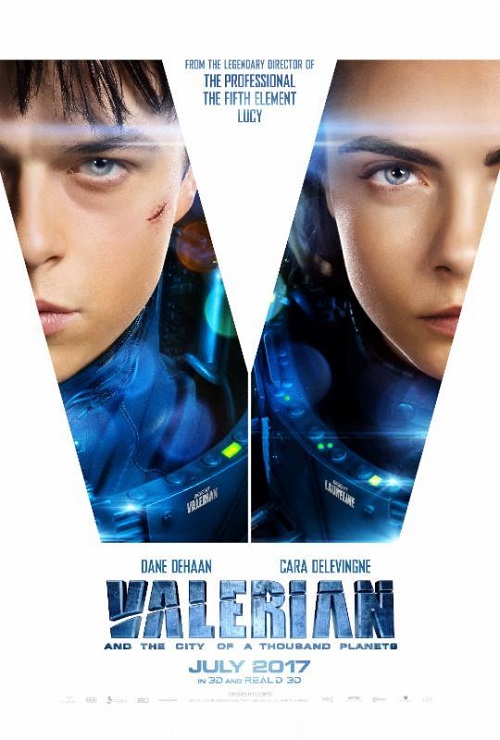 Directed by Luc Besson (The Fifth Element; The Professional; Joan of Arc; The Big Blue) and starring Dane DeHaan (A Cure for Wellness; The Amazing Spider-Man 2; Life; Lincoln; Life After Beth; The Place Beyond the Pines), Cara Delevingne (Paper Towns; Suicide Squad; Anna Karenina; Pan), Clive Owen (Children of Men; Blood Ties; Shadow Dancer; Elizabeth: The Golden Age), Ethan Hawke (Training Day; Boyhood; Maggie's Plan; Dead Poets Society), Rihanna (Battleship; Annie), Herbie Hancock (Miles Ahead; Hitters) and John Goodman (Kong: Skull Island; Patriots Day; 10 Cloverfield Lane; The Monuments Men; Trouble with the Curve).
Sci-fi adventure; 137 mins; 12+
Set 700 years in the future, an international space station (Alpha) has evolved and grown so much that it has become a vast metropolis and home to species from a thousand planets. Special operatives Major Valerian (Dane DeHaan) and Sergeant Laureline (Cara Delevingne) are sent on a secret mission by Defence Minister (Herbie Hancock) to rescue a small creature that is thought to be the last one remaining in the universe. They discover that this creature lived on the planet Mul which was destroyed a number of years previously. They come up against Commander Arun Filitt (Clive Owen) and the real adventure begins.
Valerian and Laureline work together to rescue Alpha from a force that threatens to destroy them...
With shades of The Fifth Element, arguably his best work to date, the director creates a world that can be viewed as a cross between Star Wars and Avatar. From an interesting opening scene that shows how the space station has grown and evolved with astronauts from earth spanning the diversity spectrum to stranger and stranger creatures from outer space, the scene changes to the Avatar-like beings from Mul enjoying a paradise-like existence until disaster strikes. But who is behind the attack, and why?
With incredible special effects this $196 million budget film is based on the French comic-strip series and offers cinema-goers an escape from reality and into a world where they can just sit back and take it all in on a roller-coaster of a ride. Superb special effects and a multitude of weird and wonderful characters, all of which have their own personalities.