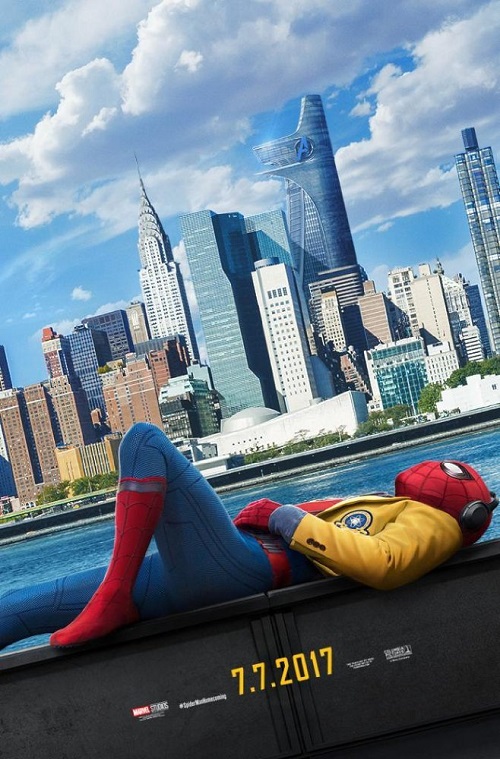 Directed by Jon Watts (Cop Car; various tv series) amd starring Tom Holland (Captain America: Civil War; Pilgrimage; The Lost City of Z; Edge of Winter; The Impossible), Marisa Tomei (My Cousin Vinny; The Lincoln Lawyer; What women Want; Crazy, Stupid, Love.; Captain America: Civil War), Zendaya (), Michael Keaton (Birdman; Spotlight; Beetlejuice; Batman), Robert Downey Jr (Chaplin; Sherlock Holmes; Iron Man; Tropic Thunder; Kiss Kiss Bang Bang) and Laura Harrier (4th Man Out; The Last Five Years).
Action adventure; 130 mins, 12 +
This film picks up following the events depicted in last year's Captain America: Civil War. Peter Parker (Tom Holland) is still at school and lives with his aunt, May Parker (Marisa Tomei). He is an awkward teenager who has a crush on Luz (Laura Harrier) but has not got the courage to invite her to the prom. During this time, he has an internship at Stark Industries to learn his trade (as Spiderman); here he knows Tony Stark / Iron Man (Robert Downey Jr). Balancing his life is not easy.
Meanwhile, one of Stark Industries' contractors, Adrian Toomes / Vulture (Michael Keaton), is stopped from concluding a job to remove scrap from a city site. He has invested all his money in the job and conceals the fact that his crew has already taken some of the precious cargo with which they then build weapons.
Following in the footsteps of Tobey Maguire and Andrew Garfield, Tom Holland puts in a sterling performance and works really well in this Jon Watts-directed film which is raw and basic with an impressive dialogue, enabling a candid view of the character and his surroundings to reach cinema audiences. Robert Downey Jr is as quirky as ever as Iron Man / Tony Stark and the villian is very traditional at this stage, but it is the portrayal of the characters in this outing of spiderman that makes the difference. Tom Holland plays the naieve teenager very competently indeed, and the web, swinging and mid-air fighting sequences are expertly done with CGI. And Michael Keaton plays a different kind of villain, one who was once good but has turned bad, but in a very believable and understandable way. Overall, very credible indeed, with plenty of twists in the storyline.